We are Gay UK.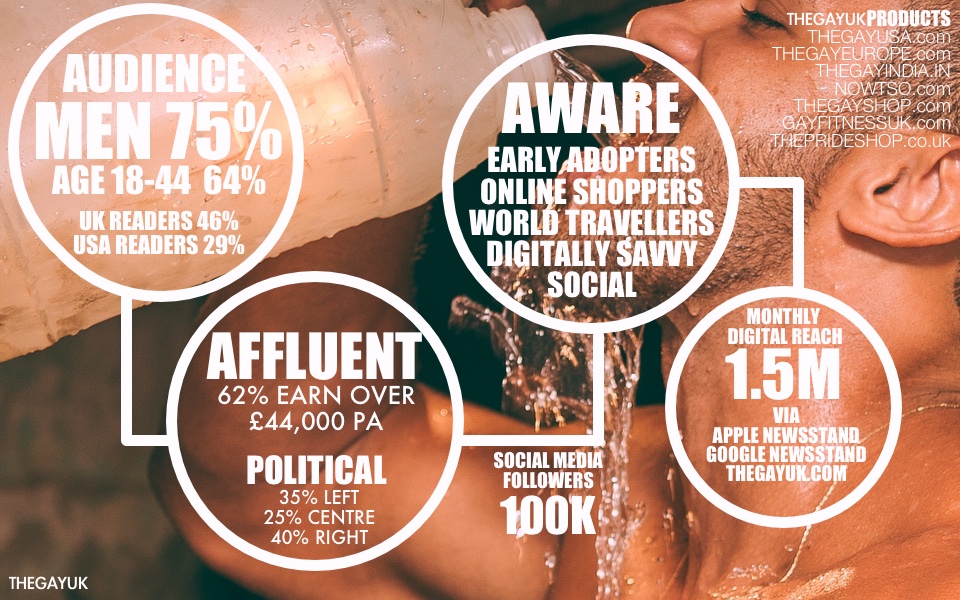 Talk To THEGAYUK® Audience
We know that advertising can sometimes be a little hit and miss which is why we believe in simple advertising packages at great prices, that we know will get the readership you want. We offer three main types of advertising on THEGAYUK® listed below.
Our current digital reach is 1.5 – 2 million engagements per month with nearly 100,000 organic social media followers. We talk to our audience through THEGAYUK® website, the podcast, Mobile App, Apple News, Facebook Instant Articles, Mailing Lists and Social Media.
All prices exclude VAT.
Contents
Why THEGAYUK?
Trust
We recently asked our audience to rate our trustworthiness as a brand. Overall 97% of our readers thought our brand was in the highest three categories of trustworthiness.
Difference
We asked how distinct our offering was compared to our rivals. 95% of our audience said our content was somewhat different to very different. Just 5% thought our articles were samey.
Not ignoring our core audience
We asked whether other LGBT+ title were "ignoring gay and bisexual men's causes" and were stunned by the response.
Over two-thirds of our core audience though that LGBT+ media were centring other stories over gay and bisexual men. Meaning that many readers felt alienated by the media that is there, in part, to serve them.
Likely to suggest us to friends
Over 89% of our readers said that they would, or might suggest us to their friends to read.
Competitions
Fantastic if you're launching a brand new product, event or show. For just £150 + VAT we'll run a competition for you. The competition will appear on the front page of the main website for at least two weeks. We'll include two social pushes via Twitter or Facebook for the competition. We can provide optional extras like data capture and further social notifications. Terms and Conditions apply.
Brought To You By Articles (Advertorials):
These are articles written by your company that THEGAYUK® hosts on site. You have full Editorial control over these (we do check over them to make sure they meet our Editorial/Style guidelines on language use), and we can provide images/video content if required. Your company logo is featured at the top of every article and also in a company box at the end of the article. This box includes your logo, a few sentences about the company and links to website / social media accounts etc. We also place a tag on all your articles so that you'll have your own company page on THEGAYUK®. Each article gets lifetime hosting and SEO support. Links to off site are no follows, in order to comply with best practices. This protects our brand and yours.
£275 – 1 article
£750 – 3 articles (£250 per article)
£1,350 – 6 articles (£225 per article)
£2,400 – 12 articles (£200 per article)
Prices exclude VAT.
Sponsored By Articles:
These are articles written by THEGAYUK® team that are written to become viral content online – often getting high shares on social media. Your company logo is featured at the top of every article and also in a banner at the end of the article. Please note these articles may not mention or talk about your product. However, your brand visual will top and tail the piece.
This is very similar to brand sponsorship on television.
Your brand will be featured on every article under the category you wish to sponsor. For instance, if you're a sexual health brand we currently have 313 articles listed under. Whereas Motoring has 156 articles.
We have many sections which can help us to showcase your brand to an engaged audience. From Love and Sex to Health to Well-Being. We offer these on a rolling contract basis. Your brand will be seen on all articles previously produced as well as any produced in your contracted time.
At the end of the contract, your branding will be removed from all content.
From £200 per month per category and is subject a two month minimum.
Site Sponsor Package – 12 months
£15,000 (+vat)
A Site Sponsor is the best package we offer companies to partner withTHEGAYUK® brand. This package includes:
12 Brought To You Articles – (1 per month)
156 Sponsored Articles – (3 articles every week for 12 months)
Company Logo and link in THEGAYUK® Footer as a partner for 12 months – This footer appears on every page we serve across TheGayUK.
PLUS Social Media attention
PLUS Article features in THEGAYUK® Mailing Lists.
If you'd like to discuss any of these packages, then do contact Graham below who'll be happy to help.
---
Add-ons
Survey.
Want to find out what people are thinking? Use us to find out what this key demographic of consumers are thinking. To see some examples visit our metrics page to see some of the surveys we've completed.
Mail out.
Get your brand in front of over 8,000 opted-in consumers who love our content so much they asked us to be in their inboxes.
Push Notifications
Reach out to 3500 opted-in receivers of Push Notifications.
Sticky post.
Make sure your content stays in front of the eyes of our audience for a longer time right on the front page.
Social push.
Get your post seen on our social networks with a number of Tweets or Facebook or Instagram posts. Tweet £75 per message Facebook £75 per message – you can also boost this from £5 to ensure maximum exposure.
---
How it works.
THEGAYUK®'s editorial team will work with you to create and craft the perfect content to suit your brand.
Using our social network, we will push your content out to the right audience.
Content partners can track how successful their content is with the share gauge at the top of the content page.
---
Who is THEGAYUK's audience?
1.5 – 2 million digital reach per month, this is across all our owned socials and platforms.
47% 18-34
36% 35-54
75% male
67% of our traffic comes from search
29% from social and direct
63% of our traffic is mobile and growing up 39% from 2016
Where can THEGAYUK be read?
We have an extensive following on Twitter (verified) and Facebook. We also have a reach on Instagram and Pinterest.
---
Some of the companies we've worked with