THEATRE REVIEW | La Cage, London
★★★★ | La Cage, Park Theatre, London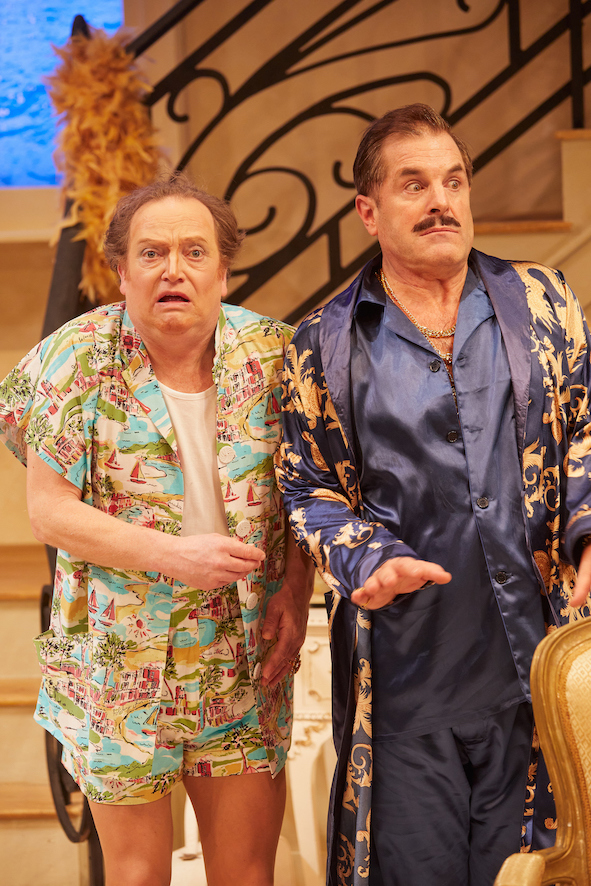 When you walk into a theatre and you see that the set is a grand staircase leading into a living room with a large statue of David and various photos of men and drag queens on the wall you know you're in for a drag of a time. This is exactly what 'La Cage' delivers.
Actor Simon Callow adapted the show for the stage, who was asked to write an English version of the original 1973 play (which inspired three french films, a hit musical, and a hit American film – The Birdcage). Directed by Jez Bond, 'La Cage' is written in its original time and location, and French speaker Callow astutely brings the flavour of the original farce to life.
Drag queen extraordinaire Albin (Paul Hunter) and Georges (an amazing Michael Matus) own and live above drag queen bar La Cage, along with their extremely camp butler Jacob (Syrus Lowe) who can sure wear high heels. Georges' son Laurent (Arthur Hughes) arrives to inform him that he's getting married to a girl whose parents are very religious and conservative, and that they're coming to town to meet his 'parents.'
Laurent's natural mother is invited as well but leaves it to Albin to pretend he's Laurent's mother and it's all one huge farce on the day and things get worse downstairs in the club as all hell breaks loose as Albin is not in residence. Dishes with naughty pictures and innuendos galore go into overdrive as the show goes way over the top with an ending identical to the other productions but in this production is all a bit too easily sewn up.
A lot happens in just over two hours and the cast easily keep up the comedy and energy. From the grand dame that is Albin to the almost not in control Georges they help to maintain a bit of the drama while the show spins its characters all over the place. And while you'll admire their dedication and tenacity, you might find yourself laughing throughout but to a point where it's not even funny.
Tim Baros writes film and theatre articles/ reviews for Pride Life and The American magazines and websites, as well as for Hereisthecity.com, Blu-RayDefinition.com and TheGayUK.com. He has also written for In Touch and TNT Magazines, SquareMile.com and LatinoLife.co.uk. He is a voting member for the UK Regional Critics Circle and the Gay & Lesbian Entertainment Critics Association (GALECA – of which he is the UK representative). In addition, he has produced and directed two films: The Shirt and Rex Melville Desire: The Musical.