THEATRE REVIEW | Spy Plays, London
★★★★★ | Spy Plays, Above the Stag Theatre, London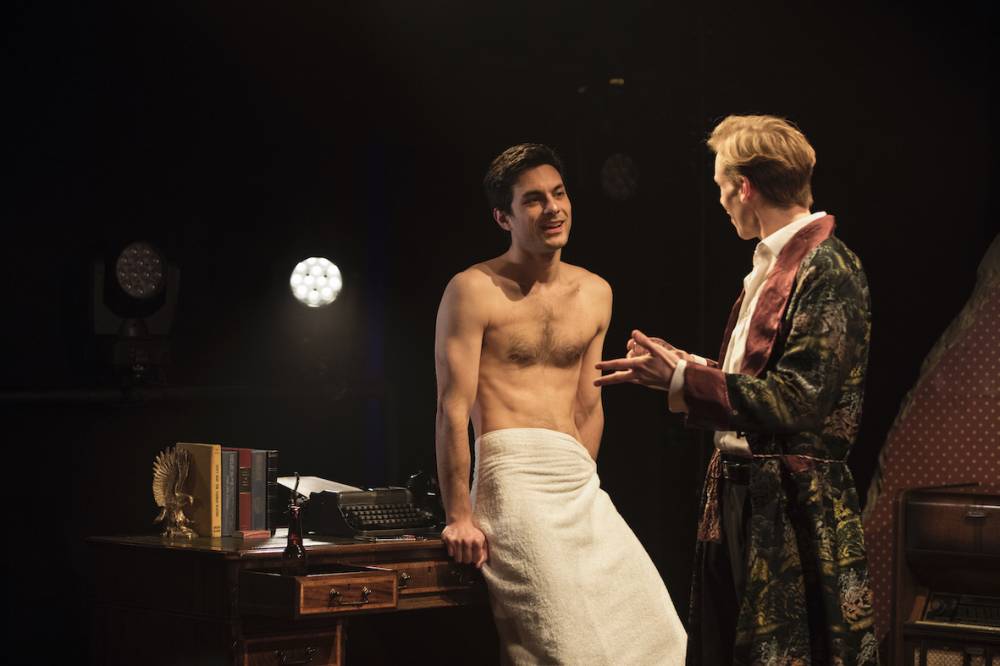 Intrigue. Attraction. Mystery. Lust. Sex. Murder. These are the themes surrounding two plays rolled into one and called 'Spy Plays' now at the Above the Stag Theatre.
David Thame's 'Kompromat' and 'London/Budapest' are shown together for the first time, and both based on true life events where the same actors play different characters in both, 60 years apart.
'Kompromat' which in Russian culture is short for "compromising material", and which has been previously performed at the Vaults, tells the chilling story of Gareth Williams, the presumedly gay man who worked for a government agency and who was found dead inside a sportsbag in the bathtub in his Pimlico flat in 2010. The show takes the story further by surmising that he picked up a man at a gay bar on that night and took him back to his flat. Guy Warren-Thomas plays Gareth, shy yet brilliant, while Max Rinehart plays Zac, the young mysterious Hungarian who seduces Gareth and perhaps had something to do with his death. In 'London/Budapest' it's 1955 and Author Adam de Hegedus (Warren-Thomas), has just met a young man (Rinehart again, at his most seductive) at the Jermyn Street Baths, and takes him back to his Pimlico flat. But who is this young man? Is he who he says he is?
And did de Hegedus actually commit suicide or was he murdered?
So what links these two men? A Pimlico flat, and that both dead had connections to the spy world. And Director Peter Darney beautifully, with the help of the production team, brings it all to life on one of the stages at Above the Stag. In 'London/Budapest' we are whisked to a appropriate era set with a comfy lounge chair while in 'Kompromat' it's a modern bachelor flat where death will rear its ugly head. And the acting couldn't be better. While Rinehart has the most dialogue and delivers it with passion, Warren-Thomas Is just perfect in his duel roles and is also absolutely breathtaking when he enters the stage in 'Kompromat' in an outfit that's unexpected yet very, very sexy.
Tim Baros writes film and theatre articles/ reviews for Pride Life and The American magazines and websites, as well as for Hereisthecity.com, Blu-RayDefinition.com and TheGayUK.com. He has also written for In Touch and TNT Magazines, SquareMile.com and LatinoLife.co.uk. He is a voting member for the UK Regional Critics Circle and the Gay & Lesbian Entertainment Critics Association (GALECA – of which he is the UK representative). In addition, he has produced and directed two films: The Shirt and Rex Melville Desire: The Musical.