The world of male grooming can be a daunting place.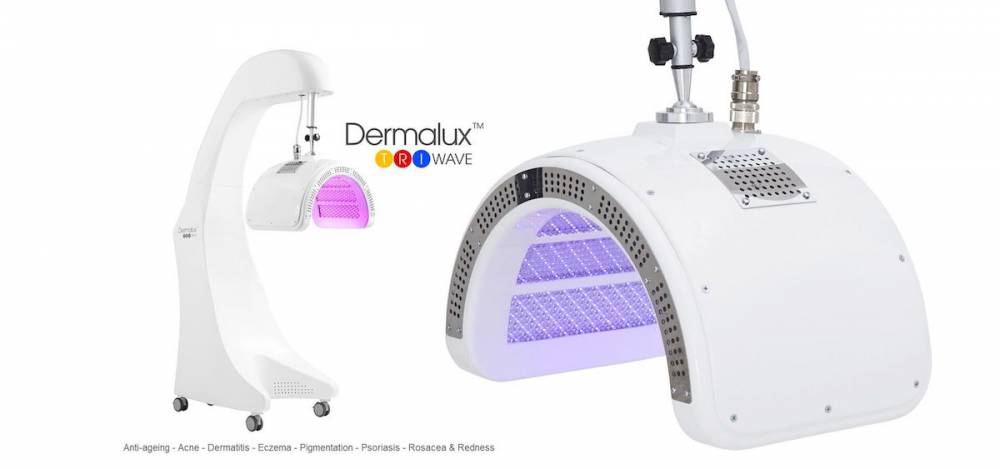 With a myriad of product types and treatments available, it's hard to know what products you need to be using and what treatments are right for you. This is why at THEGAYUK we have sent our beauty expert Thomas Swallow to try them out and decode the enigma of male grooming.
Carry on reading below, to hear about Tom's experience trying a Dermalux Facial for the first time. Missed the first instalment of this series? Click here to find out about Tom's previous adventure, where he tried intimate waxing.
Check them out on Instagram
What is a Dermalux Facial?
Now I have to admit until I first went into 193 Whitecross Street for my previous adventure in intimate waxing, I hadn't really heard of a Dermalux facial before either but once Elizabeth from London Professional Aesthetics explained the procedure to me, I knew I had to give it a try.
Essentially the Dermalux Facial is an LED light facial, where the different wavelengths of light penetrate the skin and cause different positive reactions. The treatment can be targeted to specific skin concerns and tailored to fit every client's needs. All resulting in less-inflamed and more rejuvenated skin. A quick summary of what each of the 3 wavelengths of light do, can be seen below.
Infrared Light:
Supercharges cells in the Dermis, enhancing rejuvenating properties within the skin, increasing hydration levels and boosting collagen levels. All resulting in a more youthful and radiant complexion.
Near-Infrared Light:
Causes regeneration in the skin's deepest layers, increasing blood circulation allowing an increased flow of nutrients and oxygen to the skin. Accelerating repair, reducing inflammation and reducing sensitivity for those suffering from skin conditions, such as rosacea.
Blue Light:
Targets bacteria in the Epidermis and causes a chemical reaction, whereby spots are reduced and the skin is left blemish free.
During the Treatment:
Each Dermalux Facial treatment at London Professional Aesthetics starts with a sit-down consultation with Elizabeth to build a profile of your skin and to record any relevant medical information. Having been a Nurse Practitioner in the NHS for many years, it's safe to say you're in good hands here.
Following the initial consultation, Elizabeth will then go on to cleanse your face with a mild chemical exfoliant. This is to remove any dirt from the skin and leave your skin in the best state, to absorb the LED light.
She will then take you down to the Dermalux Facial studio where all the magic happens. Once down there Elizabeth will set up the machine for your desired treatment and then ask you to lay down, while she positions the machine and puts goggles over your eyes. The next 20 mins or so of the appointment is quite simple, you lay back and relax. It's ok to fall asleep here, the light is very soothing and I have to admit, I did have a cat nap.
After your 20 minutes of bliss, Elizabeth will then finish the treatment by prepping your skin with a vitamin C serum and some SPF. Always important to use following any vitamin C treatment! Basically, you end up leaving with a visibly brighter and clearer complexion.
Elizabeth would recommend repeating the treatment once every one or two weeks, in order to achieve the long term benefits.
Pricing:
Like the waxing, of course, we cannot comment for every aesthetician in the country who does this procedure. In terms of Elizabeth from London Professional Aesthetics though, who by far we would recommend over the rest. The pricing is as follows:
Single Session: £50.00
A course of Six: £260.00
A Course of Twelve: £500.00
Final Thoughts:
I have to say from start to finish, I couldn't fault any aspect of this treatment or the service I received by Elizabeth and the London Professional Aesthetic team at 193 Whitecross Street. In terms of the treatment, I visibly saw a difference in my skin after one treatment and continuously saw this difference in my skin for at least the next two weeks. As a regular aspect of my grooming regime, I would definitely invest in this treatment if my skin concerns were more prevalent. Due to me having very few breakouts and my face being the one area of my skin, that isn't very sensitive. I personally wouldn't go every other week to get the treatment but in terms of an instant pick me up for my skin when getting ready for an event, I would definitely do so! To sum up, it's a pretty amazing treatment and I will be making another appointment very soon.
Want to check out Elizabeth's website for yourself? To visit the London Professional Aesthetics click here and 193 Whitecross Street sites click here.
Please follow and like us: