If you're looking for a special treat this Christmas then why not take a loved one or a special friend on one of the UK's most opulent days out aboard the British Pullman, sister train to the Venice Simplon- Orient Express.
Arriving at London Victoria on a cool damp December morning with the rest of the rush hour train passengers is one experience I've had the pleasure of many times. However today was different. Today I knew I was going to have a seat and what's more, I was going to be lavished in full silver service dining aboard a historical train.
The romance starts when you arrive on the platform to see the British Pullman in all its glory and a Chief Steward waiting to welcome you aboard. We were seated in the Phoenix carriage which aptly started life as the Rainbow carriage until a fire destroyed it in 1936. Rising from the ashes in the 1950s, from the remaining chassis, we were informed the Phoenix carriage was a favourite of The Queen Mother. It was Beautifully decorated with festive swags of golden pears and red berries along the American cherry wood panels. We were seated on a table with fresh white linens, silver cutlery and British Pullman crested fine bone china.
Having no sooner been relieved of our coats we were offered a bellini to sip as we pulled away from Victoria station. Our destination today was the historic town of Bath to sample the Christmas market and natural spas. It seems a little strange at first pulling away from a station drinking bubbles and watching other passengers struggling for seats on the "everyday" trains. The guilt soon passed and sitting in my suit, shirt and dicky bow I was ready to be whisked off on a 1930's extravagance.
Travelling at speed into the great British countryside, brunch is served of fresh sliced fruits and yogurt to start, with smoked salmon, scrambled eggs and buttered crumpets to follow. Finally delicate pastries were placed on the table and were as authentic as any small French town boulangerie, served with Rainforest Alliance coffee. Needless to say all of brunch was stunning.
We arrived in Bath to find a couple of buses which if you wished, would take you on a tour of the town or drive you straight to the Christmas market. Having travelled for 3 hours on a train, which flew by, we were very happy to walk at our own pace taking in the historic sites and seasonal cheer from market traders.
Returning to the British Pullman, a few hours later, we were greeted with champagne. I've written to TFL to see if this is a service they'll be picking up on in the near future! Sitting back into our sumptuous sprung armchairs, a sublime four course dinner was served up as we raced back to London. To start, caramelised pumpkin soup with parmesan creme fraiche. Followed by my vegetarian choice of, spiced puy lentil, feta and spinach parcels with creamed butterbeans and sprouts, cocotte potatoes and a coriander beurre blanc. Next came the cheeses with a glorious homemade chutney, a favourite being the Cornish Yarg wrapped in nettle leaves. Finished with a delectable warm mulled wine pear and sultana strudel and an exquisite dark chocolate truffle torte and vanila anglaise.
Every part of dinner was cooked perfectly, well presented and well thought out with flavours complimenting each other. Head chef Jonathan Kohout is to be congratulated on creating such fine creations in a relatively small space on board.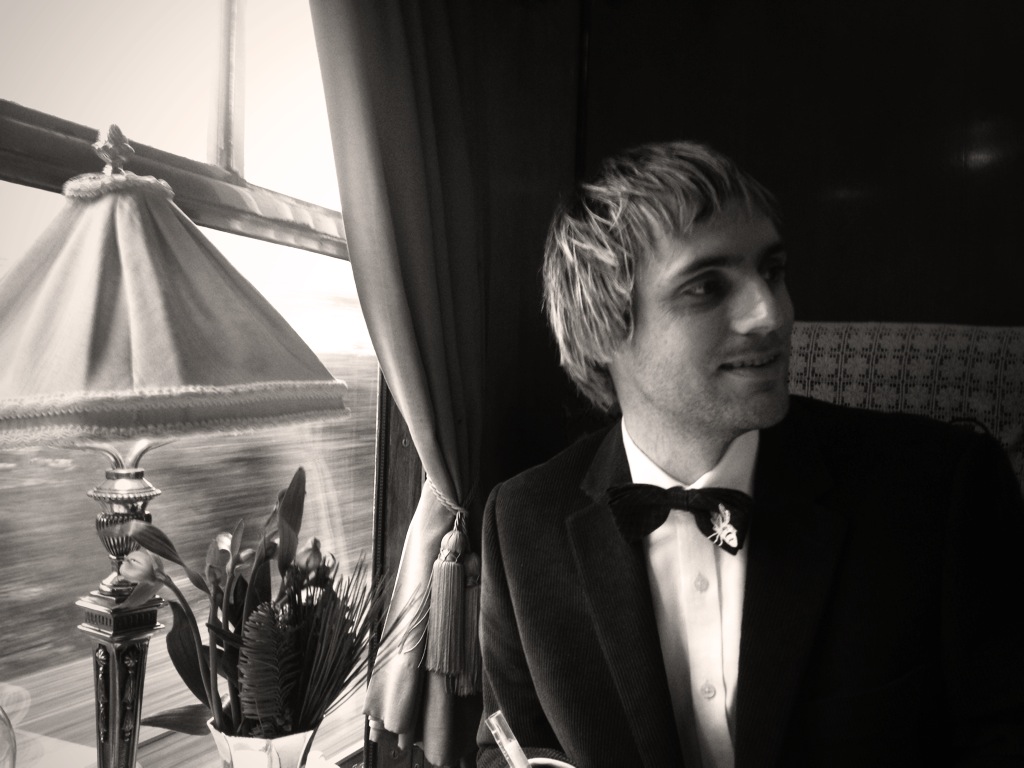 As we pulled back into London I felt a sadness having to leave the 1930s behind. Every member of the team works tirelessly to make sure your experience is personal and luxurious. I would like to note a personal thanks to Michelle and Matt who looked after us on the day, and to Chief Steward Alan who being one of the "babies" of the company, so he tells us despite 25 years service, had great expertise in the history and a deep rooted love for his work. Having experienced just a day aboard the British Pullman, I can see how easy it would be to fall in love.
The British Pullman offers an extensive programme of luxury day excursions to Britain's historic towns and stately homes as well as fine dining experiences. On board meticulously restored cream and umber 1920's and 1930's carriages, passengers enjoy fine foods, wine and champagne as Britain's countryside unfolds at the window. Prices start from £205 per person. For further information call 0845 077 22 22 or visit www.orient-express.com/uktrains.
Other trips include celebrity chef dinner trips, New Years dinner trips and Grand National trips.