Fifty-five of Pride In London's videos on the Google-owned platform, YouTube have been restricted.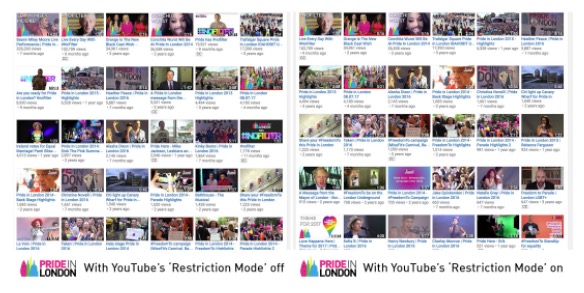 YouTube has been under fire since it came to light that it had restricted many viewers from watching content from LGBT+ content creators on its platform.
Pride In London, the UK's biggest pride festival, has had 55 of its 225 videos restricted.
55 of @LondonLGBTPride's 225 public videos have been hidden because of the YouTube's "Restricted Mode". Yes I counted #YouTubeIsOverParty https://t.co/sKCBkebh6X

— Matthew Hemes (@MattHemes) March 20, 2017
Last night the Hashtag #YouTubeIsOverParty trended worldwide as users and audiences blasted the move by the world's biggest video platform.
Here is our Youtube channel with 'Restricted Mode' on and off. Notice anything different? We do #YouTubeIsOverParty pic.twitter.com/wiTHY7BDJJ

— Pride in London (@LondonLGBTPride) March 20, 2017
Taking to their official Twitter account, Pride In London displayed how their playlist had been affected by turning on and off a restricted and non-restricted view of their account. Fifty-five of their videos from their public playlist were restricted.
Pride In London's video content has no adult content on its channel.
Restricted mode is turned off by default, but some users have found restriction has been automatically turned on, effectively making the video impossible to watch unless the viewer is logged on if the content is deemed "potentially inappropriate".
YouTube apologised for the action saying, but only hours after the hashtag had started trending,
"LGBTQ+ voices … [were] a key part of what YouTube is all about", it said that only "mature content" was supposed to be restricted.

"The intention of Restricted Mode is to filter out mature content for the tiny subset of users who want a more limited experience. LGBTQ+ videos are available in Restricted Mode, but videos that discuss more sensitive issues may not be."
In a full explanation of the YouTube explained that they were looking into the concerns of its users and reiterated that it had a "passion" for making its platform inclusive, diverse and vibrant.