Former TOWIE hottie Charlie King has come out as gay live on Morning TV.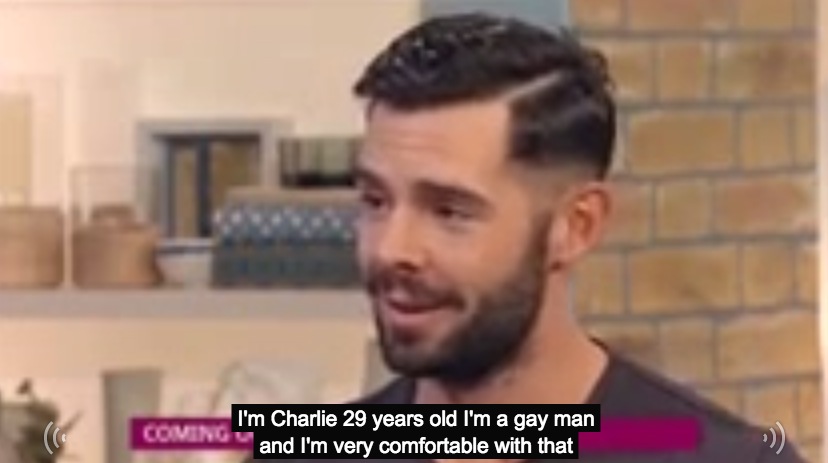 Charlie King is the latest in high profile public coming outs… and we applaud all of them.
Talking to Phillip Schofield and Amanda Holden live on This Morning,
Charlie King
, who is famous for his stint on the hit reality programme
The Only Way Is Essex
revealed that he is gay and he feels 'positive' about speaking the truth about his sexuality.
During his time on TOWIE however King had said that he was not gay – but has now admitted that he has fully come to terms with his sexuality.
He explained,
'I had a girlfriend, she was the first person I spoke to and told. It was a proper relationship but I was very aware when I was seeing her thing weren't quite right. If something doesn't click, it doesn't click.

'I feel so positive about this.'
He went on to say,
'(It's) taken me a good few years to come to get here now to be able to say, I'm Charlie, I'm 29 years old and I'm a gay man… and I'm comfortable with that.
Fans of TOWIE and King have shown great support on social media, with many sending messages of support for the reality star. Ian H Watkins (H from steps) tweeted him,
'Welcome to our fabulous family @CharlieKing85!!!
This weekend it's National Coming Out day and to celebrate TheGayUK is releasing it's 6th Issue. You can buy a yearly subscription for just £1.99 on Apple and Android.
If you need to talk to someone about Coming Out or feeling confused about issues surrounding your sexuality call the London Lesbian And Gay Switchboard (LLGS) on 0300 330 0630 or instant message them via their website: http://www.llgs.org.uk
Please follow and like us: