A number of LGBT+ activists have taken to the streets of London to reclaim LGBT history.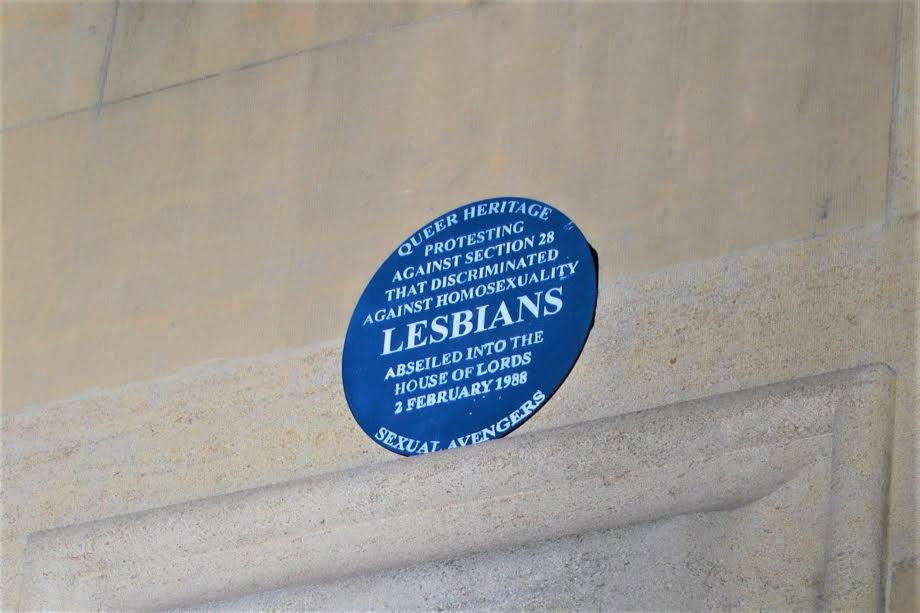 Activists from the campaign group Sexual Avengers have taken to the streets of London to mark various landmarks with special blue plaques to "reclaim radical" LGBT+ history.
The Sexual Avengers have taken over often ignored sites of LGBT history including, The House Of Lords, The Admiral Duncan and the home of Black Pride.
Security guards at the House of Lords were "baffled" as four lesbians scaled the outside wall to affix a specially designed blue plaque with the words "Queer Heritage" emblazoned on it. The move mirror the actions of four lesbians who climbed the building in 1988 during the Section 28 debate.
Speaking about the stunt, Sexual Avenger Lucy Warin said,
"For us, the personal is political. I've grown up queer in a straight world that tells me I'm allowed to be gay, but not 'too gay'.

"As a community we don't get to celebrate our personal history much – straight people can't identify the place they 'come out', they didn't lose their virginity 'in the closet' and they probably can't name one of the multiple places on public transport where I've lowered my voice or degendered my partner when telling a friend about a relationship.

"There should be no shame attached to these sites. We have to uncover our history to celebrate and learn from it."
Sexual Avenger Ariana Jordão, 33, attached the plaque to the House of Lords.
She said,
"We did this to celebrate collective acts of queer resistance. The House of Lords represents the powerful who ignore the interests of the few, so this is about visibility, creating something that's impossible to ignore – a rupture in the impenetrable powerhouse. It felt awesome standing on the shoulders of giants, and of my friends." Ariana is a biologist, artist and gardener.
Sexual Avenger Dan Glass said,
"Radical queer history is full of hope, full of hard fought campaigns by committed groups and individuals that have won us the rights we now enjoy today. London is unique as a 'gay friendly' city with no permanent LGBTQIA+ museum or cultural space: comparable cities such as Berlin, San Francisco or New York all have such a space. We demand a queer cultural space to understand where we've come from, and how far we still have to go to achieve equality, especially for the most vulnerable members of our community."
The activists plan to target a number of spaces in London, including:
The House of Lords, where four lesbian activists abseiled into a debate to protest queerphobic Section 28 legislation, 2 February 1988
The Admiral Duncan gay pub, where three people were killed and 70 injured by a Neo-Nazi nail bomber, 30 April 1999
Vauxhall Pleasure Gardens, the current site of the UK's only pride event organised by and run for people of colour, 2005 to present
and a number of LGBT clubs that have closed in recent years.
The Hoist, 1995 to 2016
The Black Cap, 1965 to 2015
The George & Dragon, 2002 to 2015
Barcode, 1996 to 2015
The Joiner's Arms, 1997 to 2015
Candy Bar, 1996 to 2014
First Out Café, 1986 to 2011
London Astoria, 1976 to 2009
Ghetto, 2001 to 2008