★★★★ | All Male, All Nude: Johnsons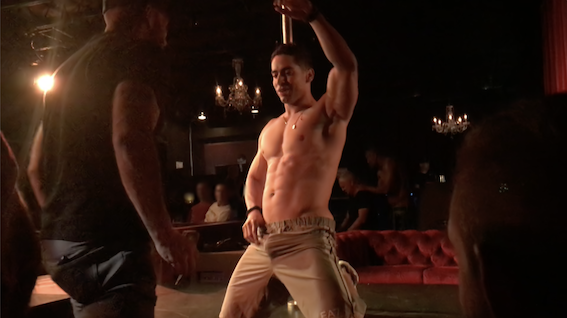 Step into the sexy world of male strippers in the new titillating documentary All Male, All Nude: Johnsons
Johnsons is not the name of one of the strippers – it's the name of a male strip club in Fort Lauderdale. Well not actually Fort Lauderdale but a community within called Wilton Manors – Americas second gayest city per capita.
In a follow up to the popular 2017 feature documentary 'All Male, All Nude,' director Gerald McCullouch introduces us to the all too hot, sexy, and young male strippers of all nationalities at Johnson's.
Owned by Matt Colunga, an award-winning bodybuilder who has been in the male entertainment industry for 23 years, we see that Johnson's is the perfect place to work if you want to be a male stripper. The strippers can make as much as $500 on a good night – and perhaps even more if they go to the 'private' rooms with a customer. But everything here is on the up-and-up, no risqué business takes place here, where Matt really cares for his strippers, even to a point to make them take a breath test before they leave the club after their shifts.
https://www.youtube.com/watch?v=jaXLv6Guv90
We meet the adorable hot and sexy Alexander, 26, who spends his days dressed as Spider-Man creating fun for children at kids parties and then spends his nights stripping down to his G-String for gay men, and others including one young man who decided to become a cosmetologist when he decided he did not want to strip anymore.
Also, there are single fathers and young men putting themselves through college with their stripping income, to entertainers in the adult film world – all sorts of men who are working hard for the money. While the focus in the documentary is not on the customers, it's them who keep this place going, and packed most nights.
'All Male, All Nude: Johnsons' is exactly what it says on the tin – it's sexy, nude and all-male!:)
On DVD & VOD
Please follow and like us: