A peaceful oasis where you and your game come first.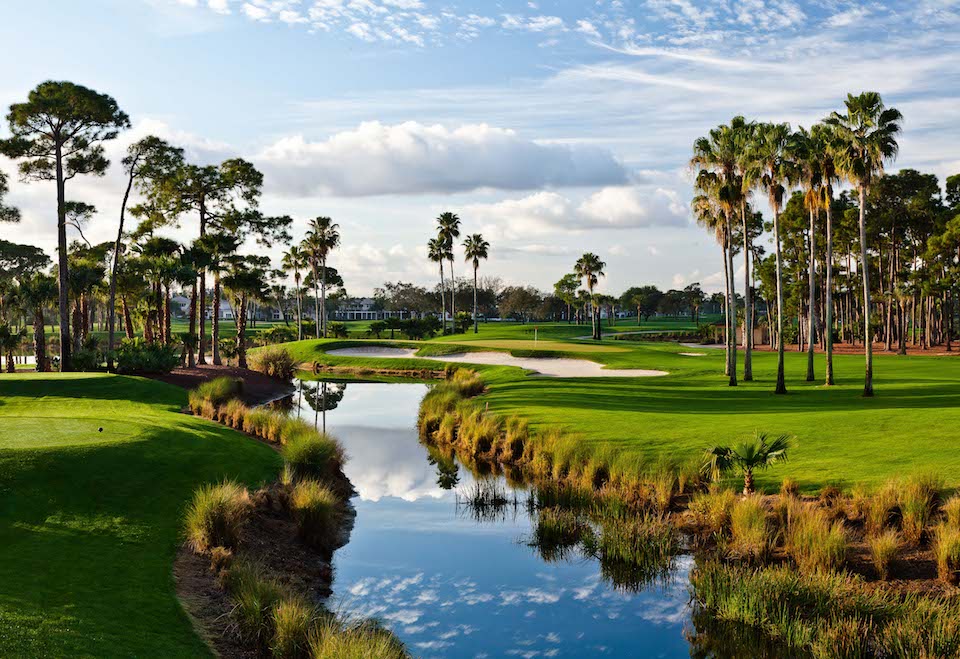 Gay golfers will rejoice in the sheer grandeur and scale of the PGA National Resort & Spa Palm Beach Gardens in Palm Beach Florida. There are five courses for you to enjoy, each offering their own challenges and joys, but if you're a beginner, don't worry, they'll even help you on your way with a lesson or two with a professional golfer. I did. I can't say I'm any better than when I started off, but I do know now, that you shouldn't treat your hitting stick (i'm reliably informed they're called clubs) like a tennis racket.
The Room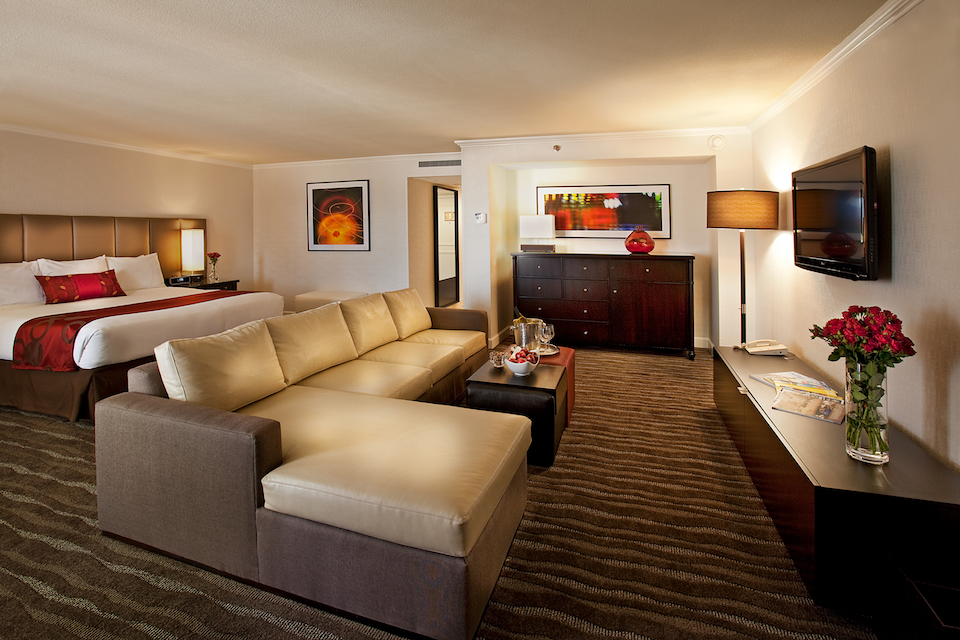 Step into your room and you'll be amazed at the size. Americans are known to go large and they haven't disappointed at the PGA National. We stayed in a deluxe junior suite, which can fit most people's entire apartments in it. It comes with a comfy seating area and a giant king bed.
The room is decorated in brown and red tones, which is the perfect opposite to all the blue sky and greenery of your outdoor surrounding. It makes the space a sexy getaway after you've spent all day on the course.
There are over 360 rooms at the resort.
The People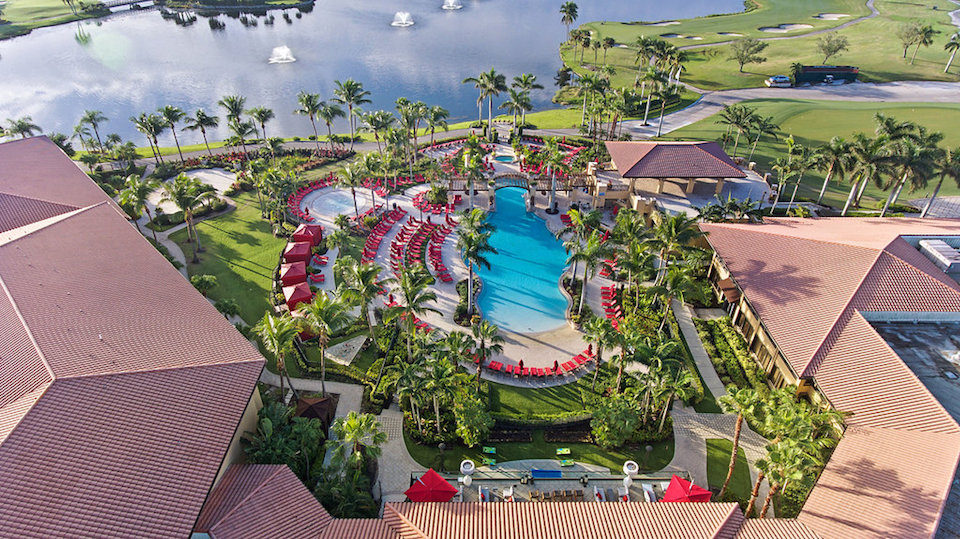 Professionalism is the word du jour at the resort. As you'd expect, nothing is too troublesome from the valets to the receptionists. Early evening you'll be greeted with a knock at your door with the next day's weather forecast written – it's like having your own real-life Siri, but much friendlier.
Of course, everyone who works here is passionate about two things. Golf and hospitality, which is why PGA National Resort and Spa is the number one name in Golfing resorts.
You must have a meal at the award-winning Ironwood Steak & Seafood restaurant. Fresh and wonderfully presented food awaits you at one of the most respected restaurants in Palm Beach Gardens.
The Location
Part of the reason why you'll choose to stay at the PGA National Resort is for the golf and you might not even leave, however, if you get a moment, be sure to get lunch at Palm Beaches' hippest eatery, Guanabanas (960 Northway Ala Jupiter) which is a short drive away. If you're looking for some culture check out the Flagler Museum, the story of Henry Flagler is breathtaking and he and his vision is the only reason why southern Florida exists as a tourist destination.
If you're looking for a pamper beyond your expectations we can wholly recommend the spa at Eau Palm Beach (100 South Ocean Blvd).
The Gay Scene
There are a few options in Palm Beach, for drag shows you should visit Fort Dix (6205 Georgia Ave., West Palm Beach). There is also a leather meet once a month at the venue. Then there is Roosters (823 Belvedere Rd., West Palm Beach)  which boasts drag shows, karaoke and latin nights. There is also Penny's at the Duke(902 N. Dixie Hwy., Ste. B, Lantana). To find out more on the local gay scene check out Hot Spots Magazine.
Our Verdict
The PGA National Resort & Spa Palm Beach Gardens offers a generous package and we like that in a getaway. It is relaxed but not over familiar, friendly but not over the top, traditional but not stuffy. Refinement is key and the resort offers that in spades. There is an incredible view of the lake at the end of the pool area, take a moment to enjoy the view on a cloudless night as the moon bounces off the water's gentle ripples and the crickets sing you a romantic serenade.
Check out room rates at Booking.com
Please follow and like us: