★★★★★| Indian Accent, London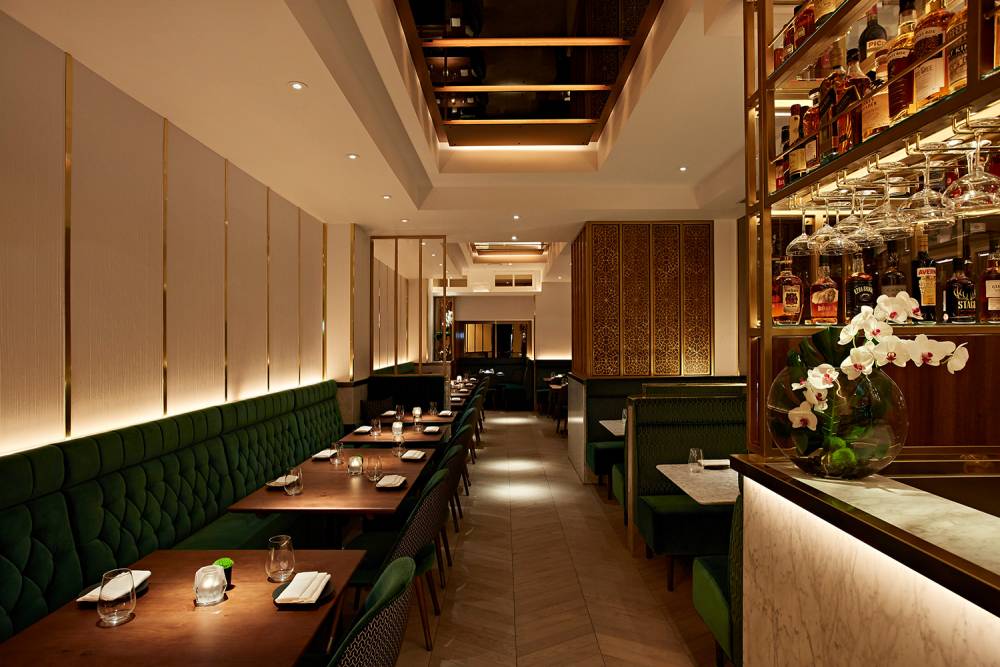 Why settle for a brunch of steak and eggs with champagne or ordinary American-style pancakes when you can have an exquisitely unique and totally different brunch of Indian food at a reasonable price?
Then Indian Accent is the place for you. Nestled amongst high end shops (including Paul Smith) in Mayfair on Albermale Street and across the street from Brown's Hotel, Indian Accent is now serving a weekend brunch that takes its inspiration from regional dishes, but with a twist of fusion which redefines Indian food where the food is not at all spicy yet very delicious and, dare I say it, perfect.
Their brunch menu, at two courses for a mere £25, or the shared brunch which features nine dishes for £40 per person, has food that you will find to be totally unique and totally wonderful.
It was a bit difficult to choose dishes from the £25 menu as I don't usually make a beeline for Indian restaurants, but luckily my brunch companion was Indian and knew the dishes on the menu to save me asking the wait staff what each dish was. Of the nine first course choices, I ordered the Lamb Seekh Kebab with cumin potato and stilton – and it was delicious. The two pieces of lamb were shaped like two sausages with chutney and was a very good choice for a starter. My friend had the Chilli Crab Cheese Toast, with summer cucumber pickle and a dollop of tamarind ketchup, where he said was good but a bit too cheddary. It was, however, the mains where Indian Accent proved to be one of a kind.
My Paper Roast Dosa, Mushrooms, and Water Chestnuts was just superb. The mushrooms and chestnuts are served under a teepee-style covering in a beautifully designed dish. The mushrooms and chestnuts go so well together and are served in an oil and is perhaps one of the best dishes I've had all year. Also excellent was the Chicken Chilli Dabba Gosht (Indian Mutton), Baked egg and Paratha (fried dough bread) that my friend had. The Mutton, even though it was chicken, had a ground beef taste, and the egg was a nice touch, to make a beautifully-tasting dish that is just so so different. We were also treated to the Potato Sphere Chaat – which is a street-style Indian street crunchy snack food that is just wonderful! For those of you who are Indian or who have been to India you would know what these are, but I had never had one before and I am now hooked! They are delicious!
The main courses, by the way, come with nan (kulcha) so you will be quite full after your two courses. But you are craving a typical bacon dish, then the flatbread naan-style dish (Kulcha) stuffed with bacon will be your dish.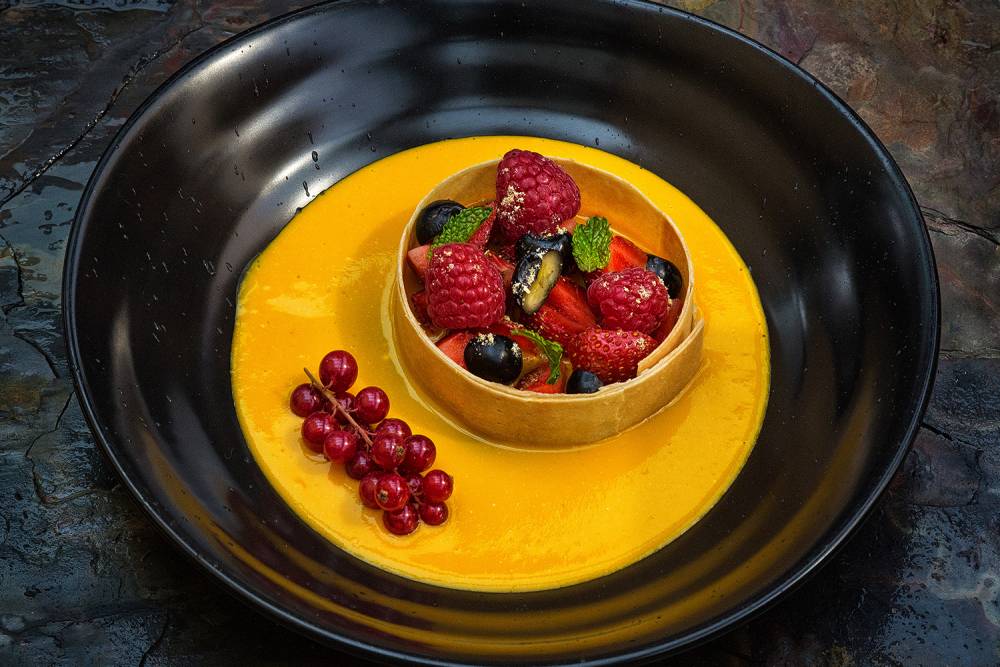 But wait! You must order dessert! I luckily had the 'aamras' (beautiful) cardamom sauce with summer berries on a bed of mango sauce littered with pineapples – absolute heaven and perhaps the best dessert I've had all year! And it was not heavy at all! What looked heavy was my friend's Makhan Malai made with saffron milk cream – a beautiful mound of all these ingredients sprinkled with almonds and rose petal jiggery brittle – it's quite large but actually very light, and I might add very delicious. Two five stars for the desserts – they both almost made us cry!
Of course, their brunch menu has more options to choose from, as does their lunch, dinner and Pre-Theatre menu, and all can be viewed here: http://indianaccent.com/london/#menuID– but we feel that we had the perfect combination of food on the brunch menu, and I highly recommend you have the same dishes as well.
But of course, there are drinks to be had as well. And of course, the drinks we were given were just perfect. The Transcendental Meditation drink, made with Honey Infused Gin, Mountain Sage Liqueur and Thyme & Lavender, and served in a copper cup, was absolutely divine, delicious, refreshing and perfect. And the wines chosen for us – the chardonnay Macon-Vinzelles Clos de Grand Pere and the Barbera d'Alba DOC by Francesco Rinaldi (Italian Red Wine) were just superb.
Indian Accent is chic, elegant, modern, with great prices and food that is top notch. Chef Manish Mehrotra puts his unique spin on brunch with expertly spiced, imaginative plates and the restaurant has won much critical acclaim since opening just a few months ago and with the arrival of brunch alongside a whole host of new menus – including the arrival of the Summer menus earlier this month, a 45-minute £19 business lunch and a two course pre-theatre at £28. Indian Accent is firmly establishing itself as a restaurant for all occasions. I urge you to go…excellent food at excellent prices.
16 ALBEMARLE STREET, MAYFAIR, LONDON
+44 207-629-9802
Restaurant Hours:
Dinner: Sunday – Thursday; 5:30pm – 10:00pm; 10:30pm on Friday & Saturday
Lunch: Monday – Thursday; 12 noon – 2:00 pm; 2:30 pm on Friday
Brunch: Saturday – Sunday; 12 noon – 2:30pm
Pre-Theatre: Monday –Thursday; 5:30pm – 6:00pm (One Hour Seating)
http://indianaccent.com/london/