Baby, Scary, Sporty and Ginger have revealed what the staging of their upcoming tour looks like and its EPIC.

With just days until their tour is set to begin the Spice Girls have unveiled what their staging looks like. They also released some pictures of them in rehersal.
The band are joined in rehearsals with their own 'House' of dancers. Each house is made up of five dancers dressed in their correlating house colours – 'House of Baby', 'House of Sporty', 'House of Ginger' and 'House of Scary'. The dancers were unveiled on Instagram and picked from 5000 applicants from across the world. The dancers are choreographed by Paul Roberts.
However the most impressive sight has to be the staging.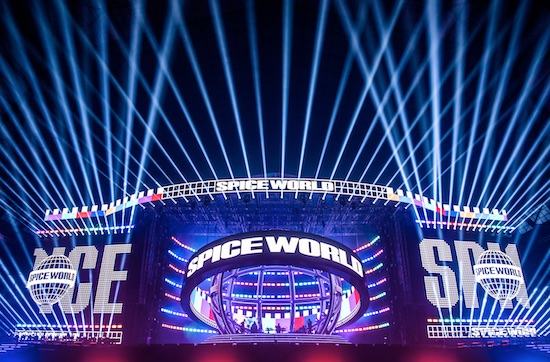 The graphics for the tour are designed by Kate Moross who has also designed the band's 90's inspired new merchandise as seen on Melanie C (in the photo)
See an interview with Kate Moross on her involvement in the Spice World tour here.
Cardiff – Principality Stadium 
Manchester – Etihad Stadium
Manchester – Etihad Stadium
Manchester – Etihad Stadium
Coventry – Ricoh Arena Stadium
Coventry – Ricoh Arena Stadium
Sunderland – Stadium of Light
Edinburgh – BT Murrayfield Stadium