★★★★☆ | Audi A7 Sportback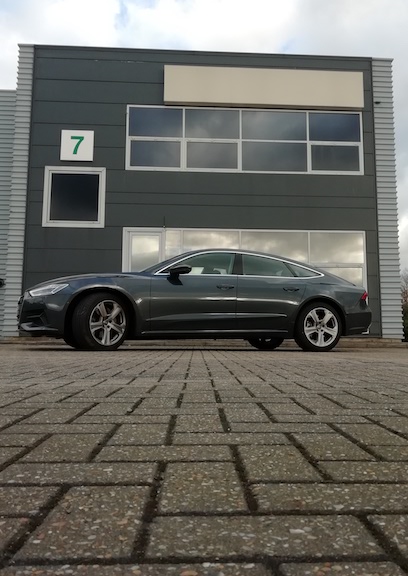 What Have We Got?
Here we have Audi's large spacious and practical Sportback. It's a cross between a hatchback and saloon in a fastback design. Does the fear of a luxury saloon with a lifting rear door distract from its market competitors or does the fact it is practical, give it the edge?
Driving
For such a big car, it is rather nice to drive, just as long as you don't use multi-storey carparks. It's a tight fit in those. 
As with Audi, you get a selection of driving modes from comfort to dynamic and here Audi buck the trend. This A7 comes with standard sports suspension and from past experience, it has always been found to be too firm. A pleasant surprise was that it's compliant on most surfaces while retaining a degree of Teutonic tightness. 
The engine was the bigger 286ps V6 diesel that had a nice growl to it when you pressed on. When it opened up that is. Throttle lag is quite marked, from a slow rolling being the worst like that when creeping up to a roundabout. 
It doesn't get much better when on the move unless you override the system and put the Tiptronic system in manual. Once into 6th gear and you press on, the gearbox delays the pick up by selecting 2 to 3 gears down and then hurtling the car forward with a good dose of shove.
Inside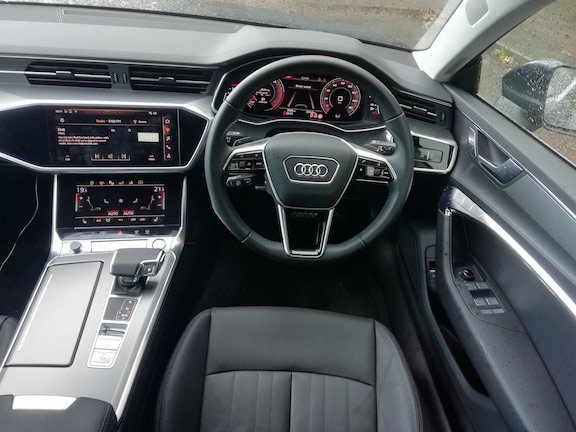 As you would expect, the cockpit is a nice place to be in if you are 4 up. It's not really comfortable as a 5 seater express due to the intrusion from the transmission tunnel. 4 up, and there is plenty of room within the 2926mm wheelbase.
Fittings were on par with this segment and the split touchscreen got my thumbs up. For those who like buttons and not touch screens, there is the option of 'Haptic control'. This requires a bit of force on the item you want to select on the screen and in return, it vibrates on your finger. Personally, I preferred the touchscreen. For once, this was a touch screen system that worked quickly to inputs.
What I didn't like was the wind noise from around the driver's door at over 50mph possibly caused by a wayward door seal though it all looked well put together. 
Living With It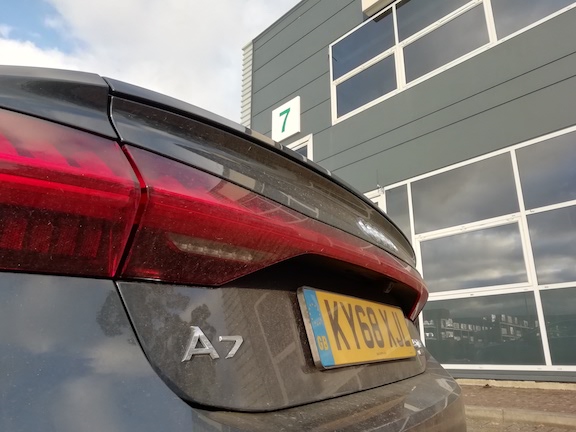 Let's get one thing out of the way first, that lifting rear door makes this an incredibly practical car. Luggage space is a whopping 535 litres with the seats up. There is minimal intrusion too, meaning the car can carry estate car type loads up to the window line at least. Loading and unloading is not a problem.
The Verdict
The A7 is a fine car from Audi with understated good looks. The fact it lacks aggression in its looks is a good thing. From all angles, the A7 is a handsome car that will not cause offence to anyone. If you are looking for a car to carry you great distances with minimal fuss, then this is your car. It's subtle good looks make this Audi surprisingly calm. It can be hurried, It's a Quattro after all, but that delay in the throttle responses is what really lets it down as a press on car. Keep it calm and cruise. It's good at that. 
Love
Interior styling
Handling
Practical
Loathe
Transmission tunnel intrusion in the rear
Lethargic throttle from standing start/low speeds
Indecisive automatic
The Lowdown
Car –  Audi A7 Sportback 50 TDI Quattro 286ps Sport Tiptronic
Price – £ 60,290 (as tested)
MPG – 48.7 mpg (combined)
Power – 286PS @ 3500-4000 rpm
0-62mph –  5.7 seconds
Top Speed –  155 mph
Co2 –  150 (g/km)
Please follow and like us: