The law concerning same-sex marriage and divorce in England and Wales still isn't equal as statistics show same-sex divorce is on the rise.
Same-sex marriage may only have been legal for four years but divorces have taken a sharp increase, according to a new report from the Office of National Statistics released this month. James Perrett dives into the data and chats to three law firms to find out what we know so far.
There's a little-documented fact about divorce that may come as a surprise to the LGBTQ+ community. Despite same-sex marriages being introduced into law in England and Wales in 2014, adultery cannot be used as grounds for divorce of a same-sex couple because the law defines adultery as "sexual intercourse with a person of the opposite sex."
The latest data from the Office of National Statistics (ONS) shows the number of divorces between same-sex couples in England and Wales last year was 338, more than three times the number in 2016 which was 112.
"Adultery" doesn't legally count for same-sex divorce
Unreasonable behaviour was the most common reason that same-sex couples gave for divorcing, accounting for 83% of divorces among women and 73% among men. But how many of those divorces cited unreasonable behaviour because adultery was not an option?
Helen Habershon, senior associate at Barlow Robbins in Woking, told me it may not be that simple.
"A key fault in the system is that not only can you not petition for your own adultery, you also have to get the person who committed adultery to admit it.
"They don't have to name who the other person is, but they do have to admit it on the form that the court sends them.
"Many times, if there's any worry or risk that the other person won't admit the adultery, I always advise that they proceed on the grounds of unreasonable behaviour.
"So, although in a same-sex marriage they can't use adultery as a reason, I'm not sure how significant that actually is.
"Because of everything that has to go with adultery, you're invariably in some way or another going to submit an unreasonable behaviour petition."
But she added: "It is ridiculous that it's limited to what the law says, in that it must be intercourse with the opposite sex, because it's still the affair, the lack of intimacy, the breach of trust."
When you petition for divorce, you're required to prove your marriage has suffered an irretrievable breakdown and then give one of the following reasons: adultery (in heterosexual marriages); unreasonable behaviour; desertion; separation of two years without consent or separation of five years, for which no consent is required. You also have to have been married for more than one year before petitioning for divorce.
According to the ONS statistics, the average (median) number of years of a same-sex marriage before divorce in 2017 was 3.5 years for men and 2.8 years for women.
"It could be that some people have been together a long time and they get married so that they can have children." Helen suggested. "Things like IVF and adoption can put a strain on a relationship."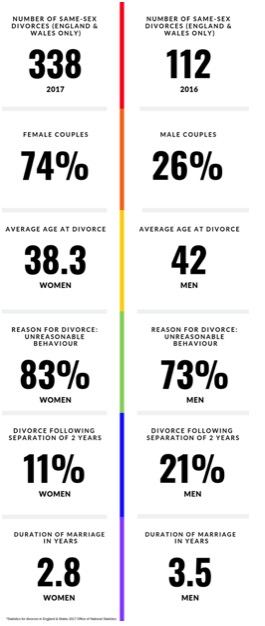 "Law is based on 1973 legislation"
But for Zahra Pabani, partner and family law expert at Shakespeare Martineau, the current law isn't just discriminatory to same-sex relationships.
"I would say it's as frustrating for heterosexual couples as it is for homosexual couples," she said. "Our law is based on 1973 legislation, it has not moved with the times for same-sex or opposite-sex couples.
"It's frustrating for everybody, not just the gay community – maybe more so because they can never claim for adultery but it's frustrating for everybody."
She added that the high numbers for same-sex divorce may be down to the excitement around the law finally coming to pass, after many years of hard campaigning.
"Everybody got terribly excited that they could get married," she said. "So I think sometimes the relationship might not have been great but you try to salvage it by getting married.
"I see that in opposite-sex couples who have been living together for a really long time then try to refresh the relationship by getting married and the relationship breaks down quickly. It doesn't matter what sexual orientation you are, lots of people do that.
"There was a flurry of gay marriage but it wasn't always for the right reasons, not because they're gay; everybody does it."
Gay parents can have added discrimination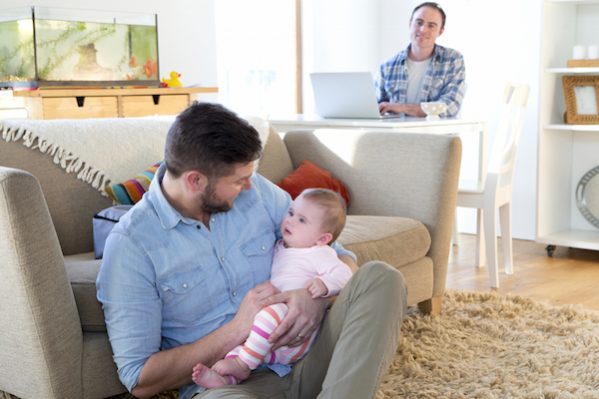 Where the law is discriminatory, she argues, is when it comes to single people trying to become a parent.
"It's much harder to apply for a parental order if you're single, gay or straight," she said. "As a woman, you could try to get yourself pregnant but if you're a man and you do it by getting a friend pregnant it's much, much harder for you because the law will always favour the person carrying the child.
"Even harder if you were a gay woman who couldn't carry a baby so you used a surrogate, because you're not the person carrying it."
Zahra is a Resolution lawyer, part of a body that advocates a non-confrontational approach to divorce, and said people petitioning for divorce should first try to reach a settlement out-of-court, either directly through their partner, or through a good solicitor.
*Divorce statistics from ONS are derived from information recorded by Her Majesty's Courts and Tribunals Service during the divorce process
Please follow and like us: