THE UNDATEABLE GAY | Goes Speed Dating
"After his first question, 'Which is your favourite train model?' (I kid you not), we sat in silence. I don't think he was impressed with my answer. I told him my favourite train was Thomas. Before the bell rang to signal the end of the three minutes, he had already got up and left the date"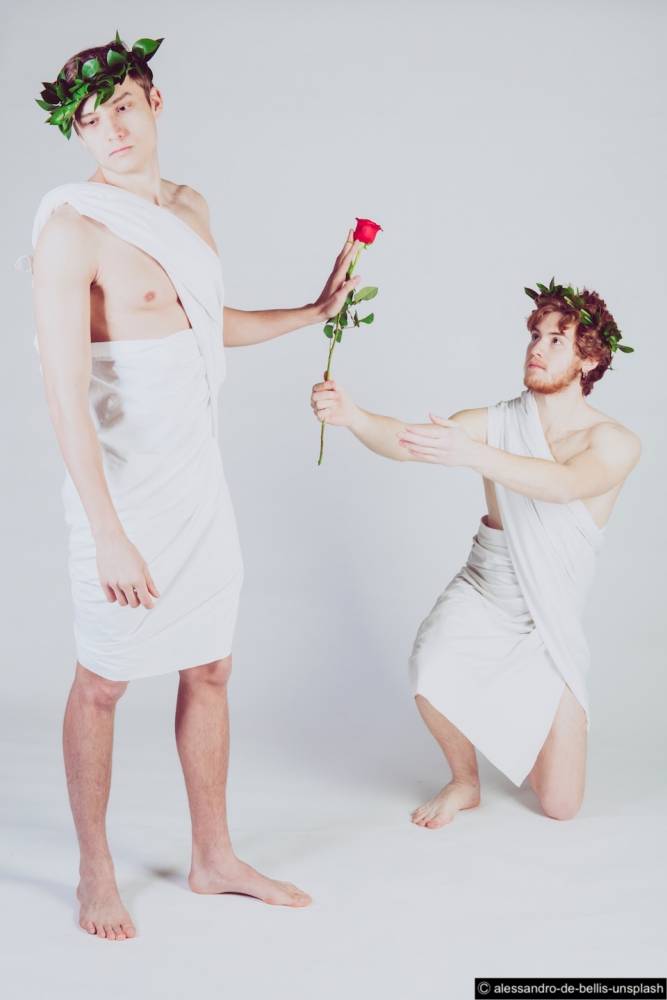 I don't know why I didn't think of it years ago. I've tried Grindr, Plenty of Fish and various other dating apps. I've attempted blind dates, set up by well-meaning friends. I've even turned my hand, or should that be legs, to bike rides in the country. All to no avail.
So I saw an advert for speed dating in Leicester Square and decided I had nothing to lose. Other than a clock load of three minutes.
I came to the conclusion that even I couldn't go wrong with speed dating. Only three minutes with each man. Surely even I couldn't show myself up in that time frame.
This will come as no surprise to my friends, family or avid followers of this column, but I had a Savvy B to calm my nerves and give me a drop of Dutch courage. A rather large drop of Dutch courage. I say a glass, it was actually a bottle.
The bell rang and it was time for my first three-minute date. I was at a table with a rather handsome man, who at a guess, I would place in his early forties. He had such beautiful eyes, I felt myself start to swoon. I believed I was about to meet my perfect man.
Well, let me tell you this, whoever coined the phrase, looks can be deceiving deserves a medal. He opened his mouth to tell me his name was Derek. He had a voice which only the word monotone could be used to describe. Trainspotter springs to mind.
After his first question, "Which is your favourite train model?" (I kid you not), we sat in silence. I don't think he was impressed with my answer. I told him my favourite train was Thomas. I mean, I was only joking but he had obviously had a sense of humour bypass. Before the bell rang to signal the end of the three minutes, he had already got up and left the date. RUDE. Things can only get better. I hoped.
I'd never been so grateful to hear a bell in my life. Well, apart from dinner time back in primary school. I was a fat kid, what can I say? I got up and moved to my next victim. Whoops, I mean man.
I found myself sat opposite another handsome man. But I told myself not to judge a book by its cover after my first failure. Wait until you hear him speak, I heard a voice in my head tell me. And when he did, I fell in love. He was very posh, well-spoken and far from monotone.
He asked me a question about my occupation and as my gob opened, I saw an eyebrow raise on his boat race. Our voices and accents couldn't be any more opposite. He clearly came from Barnes and me from Staines.
"It's like being on a date with a character from EastEnders!" I kid you not, those were the exact words that left his mouth. I would have raised my eyebrows too, but after botox, I struggle to perform this action.
He was clearly put off by the way I spoke so instead of raising my eyebrows, I raised my arse from the seat and finished the date prematurely. Third time lucky I hoped as the bell rang again.
I clutched onto my glass of Savvy B and decided it WOULD be third time lucky. I may be the unluckiest gay in the dating world but I would never lose my optimism. PMA. Positive mental attitude. I'm going to have it etched on my gravestone.
I sat down at the next table, well I say sat. I'd had a few glasses of New Zealand plonk by this point, so the word stumble is a more appropriate description of how I travelled to my seat. I soon sobered up as I clapped eyes on my next potential beau. DING FUCKING DONG.
It was a refreshing joy to finally meet a VERY handsome man who seemed reasonably normal. And we seemed to hit it off like a house on fire. We laughed together and he even asked me out for a drink after the speed dating had finished. Maybe the undateable gay's curse is finally lifting. WATCH THIS SPACE…
Mark David Woollard has just hit his 30's and he feels as good as he ever has done! He is a fun loving, hard working kinda guy who has a self
confessed addiction to fake tan and Botox!
He has a terrible track record with men and rarely seems to get past the first date stage!
He graduated from Brunel university, west London back in the late 2000's with a degree in creative writing and journalism. And is the author of one book, "The fun and frolics of Fifi a l'orange: The fame journey." Available to buy on amazon!
He loves to make people laugh and vows never to take life too seriously. His favourite colours are purple and blue. Baby blue more though. His favourite food is Italian, but he is so upset that he can't have garlic anymore because it gives him awful indigestion. His favourite alcoholic beverage is Sauvignon blanc. But he has also become partial to ale of late. And is worried about whether that makes him an old man??
---
YOUR SUPPORT MEANS EVERYTHING
---
Help us deliver unique, usable and reliable journalism that supports the gay, bisexual and curious community of the United Kingdom. Can you help protect LGBT+ media? Publishers like us have come under severe threat by the likes of Google and Facebook. The problem is that advertisers are choosing to put their money with them, rather than with niche publishers like us. Our goal is to eliminate banner ads altogether on site and we can do that if you could pledge us a tiny amount each month. We're asking our readers to pledge just £1 per month, more if you're feeling swanky. You can stop payment at any time. It's quick and easy to sign up and you'll only have to do it once. Click to start the journey!