Motoring journalist, Neil Briscoe, on Twitter recently posted up that the best car he'd ever driven was a Mercedes pagoda. It got me thinking. I get to drive lots of new and old cars and those in the middle. But which is my favourite?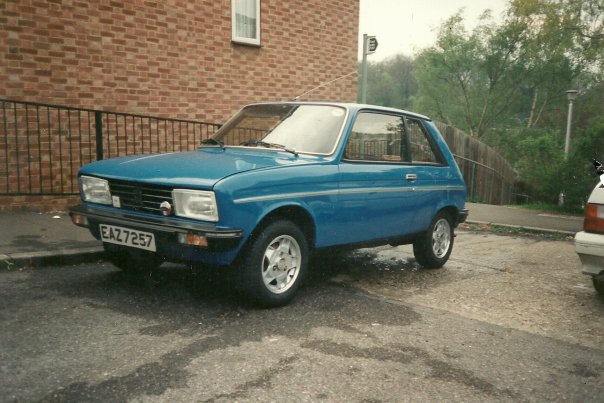 This is difficult because my driving career spans 26 years and when I look back I could say the 1979 Mercedes 280SL but I was 18 when I drove one of those and compared to my second Citroën Visa, it was powerful and luxurious. Likewise I was also 18 when I first drove a VW Beetle and that's enough to put you off motoring despite wanting one.
No, it's taken me some serious thinking, a little bit of drinking and a thumbing through photos and books to come up with my best car I have ever driven. It's the Peugeot 104 ZS.
I've had 2 of them. Both 1980 models, both blue and both ZS models. The first was quite the wreck but the second was much better. It wasn't the best car in the world though. In refinement and luxury departments, it was overshadowed by the likes of the Ford Fiesta and Renault 5. It was rather crude and basic despite having electric windows and alloy wheels. It had rubber mats in the rear, piss poor ventilation and a tiny boot.
What makes it the best car I've ever driven was one fundamental thing: I'd look at it and for unquestionable reasons, I'd dread the drive where I had to go. Yet it always entertained. It's diminutive size and 1360cc engine with 72bhp was hardly left embarrassing itself in traffic of the day. I also had a comfy luxo barge, Peugeot 504 Ti automatic in the garage at the time too.
On the motorway, it kept up and beyond despite only having a 4-speed gearbox, it was never tiresome or overly noisy. The 12 CD changer in the boot, 6×9 speakers in the rear side panels and 7" in the doors put pay to excess noise by drowning out the cacophony of mechanical screaming to Kylie Minogue and Duran Duran. 
It was also one of the last cars I have owned where I'd just jump in it late at night and head for the roads in the dark. I'd be out for hours and hours, yellow Sev Marchal headlights cutting through the worst of the night. I did some stupid things in it and yet I lived to tell the tale. It never once got so out of hand that it ended up facing the other way. Something that could not be said for the Peugeot 205!
The entertaining also stretched to its ability in the snow. Being a home carer at the time, I needed to get out and about in vile weather and that car was amazing in the snow. Small wheelbase with all the weight over the front wheels certainly helped. Its Achilles heel was its wipers. They were slow.
So here we are, 2018 and the 1980 Peugeot 104 ZS has to be the best car I have ever driven though probably not owned. Oh crap, now I'm thinking about that one. Be right back…
Opinions expressed in this article may not reflect those of THEGAYUK, its management or editorial teams. If you'd like to comment or write a comment, opinion or blog piece, please click here.