seXMAS is here...
Get ready to spice up the holiday season with our Erotic Christmas Gift Guide for Gay Men! Whether you're shopping for your partner, lover, or looking to treat yourself, we've curated a collection of sensual and exciting presents that will set the festive mood ablaze. From intimate accessories to playful games, this guide is designed to add a touch of passion to your Christmas celebrations. Let's unwrap the pleasure and make this holiday season one to remember! 🔥🎁✨
Erotic Christmas gift ideas for gay men
The perfect butt plug
If your friend, bf, or lover loves butt play then buying the perfect butt plug might just be the way to this Christmas. Whether he loves a big toy or just experimenting the world of butt plugs and dildos is well, neverending.
If he's into anal training then these anal gape grommets could be a great bet. If he's looking to get a great sensation then you can't beat the Prowler Red 6.5 dildo and if he just wants to be destroyed then look no further than the Tower…
The only cock present he'll need
The Satisfer is only masturbation toy is the only toy he needs. We've written about how this toy is the ultimate vibrating toy and it's a perfect gift – and it won't break the bank at under £40
Kinky Bear
These bondage bears are cuteness in bear form. Even The Most Extreme Fetishist Will Appreciate These bondage-loving teddy bears. There's Charlie Chains, Sal The Slave, Freddie Flogger, Bound Up Billy, Gag Ball Gary and Gimpy Glen. They're all extremely cuddly and cute and priced at £23.99
Naughty Puppy
Brand new from Prowler these kinky and naught pups are the perfect present for the kinky man in your life. Choose from Captain Chains, Roped Up Rover or Booted Up Bandit.
Patrick Devon Naughty Mugs
We love these gay erotic art mugs from our very own sex and relationship expert Patrick Devon. He's created these very sexy mugs which feature a pop art depiction of men having sex.
Not for the faint arted… or those who work in a very public office.
Check out the Patrick Devon Erotic Mug range here from THE GAY SHOP All are under £15
Clone your willy
This is surely one of the most unique gift ideas, where you can legitimately tell your gay mate to go fuck himself… literally. Buy it here
Naughty Dice
Turn up the heat this Christmas with the perfect gift for intimate moments: Sex Dice! Spice up your holiday season with these playful and enticing dice that add a touch of excitement and spontaneity to your intimate adventures. Whether you're gifting your partner or a couple, unwrap the pleasure and bring a whole new level of fun to the festive season. It's the gift that keeps on giving! 🎲 Check out the range here
Sex Books
There's a great selection of books for gay sex over at The Pride Shop. From The Ultimate Guide To Anal Sex to Position Of The Day, Little Book of Sex Tips and Little Book Of Sex Facts. All incredibly interesting and who doesn't want a library of sex literature?
Harness
Explore new realms of style and confidence with a Harness! These bold and fashion-forward accessories are designed to make a statement, whether you're hitting the club scene or embracing your unique fashion sense. Choose from a variety of styles and materials to express your individuality and feel empowered. Elevate your look with a gay harness that celebrates your authenticity and adds a touch of daring flair to any outfit. Check out the full range here
Sex Vouchers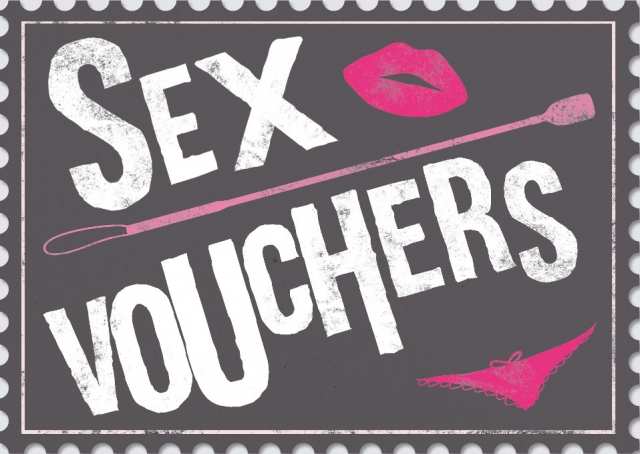 Are you bold enough to share these intimate vouchers with your partner? This coupon book features 62 tear-out vouchers for you to gift. Make enticing promises like "Embark on adventurous role play" or "Plant kisses from head to toe." Each voucher holds a spicy pledge that you're committed to fulfilling when redeemed. Buy them here
Underwear
Now normally buying underwear for men is so cliché, but swap out a pair of ratty briefs for a cheeky jockstrap or even a thong and suddenly it's a tree-mendous idea!
Feeling in the Christmas spirit? Check out our Christmas recipes to cook up a festive feast at home. Looking for non-erotic Christmas gifts for your gay pals check this out.
Some of the links in this article may generate us a small commission if you decide to purchase from any of the vendors.