It's hard to define what makes an LGBT+ anthem, but there are songs that become ingrained in queer culture.
It's hard to define what makes an LGBT+ anthem, but there are songs that become ingrained in queer culture.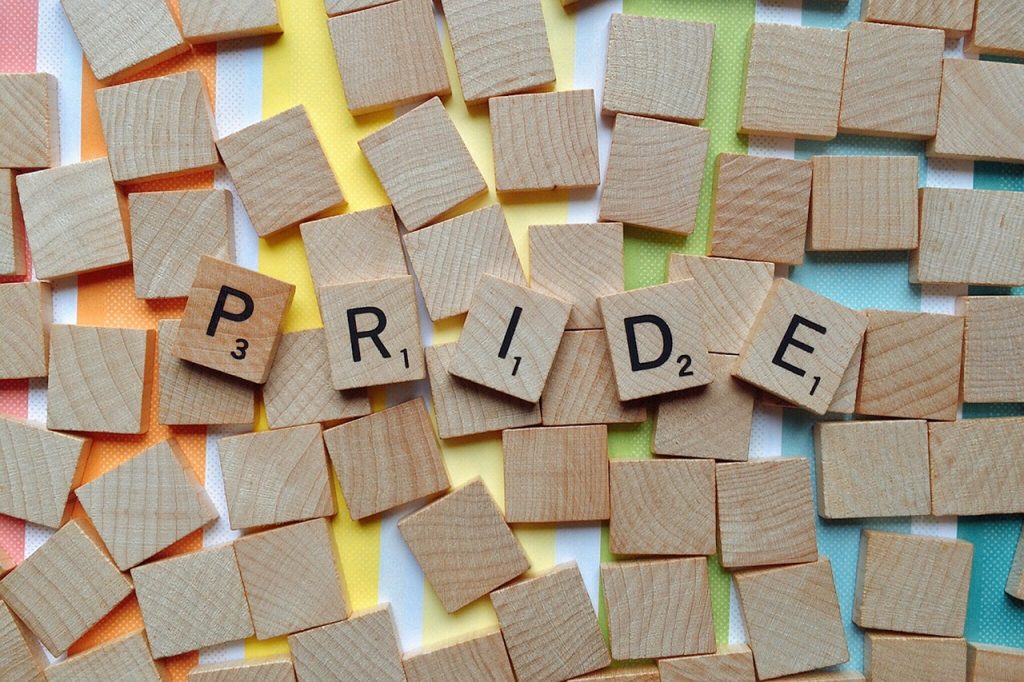 Some concrete themselves because of a film they were in, some because of the artist who sung it. Some songs become gay anthems because of their message. We've teamed up with Deezer to showcase our pick of the top 40 gay anthems.
1) I'm Coming Out, Diana Ross, 1980
The name says it all. If ever there was a feel-good song to celebrate coming out from Ms Diana Ross. It's the perfect way to kick off any pride playlist – and was the way in which Ms Ross used to kick off her concerts since 1980, the year in which it was also released.
2) It's Raining Men, The Weather Girls, 1982
This is an ultra-camp classic that stood the test of time. So loved by the gay community that in 2014, when a UKIP councillor suggest that the unusual flooding in the UK at the time was caused by same-sex marriage, the song was released again and reached number 21 in the UK charts. Geri Halliwell also released a version, but you can't beat the original, which stars the vocals of Martha Wash and Izora Armstead.
3) Get The Party Started, P!nk, 2001
Who can't get the party started when they hear the outspoke ally, P!nk sing this song?
4) Bag It Up, Geri Halliwell, 2000
When the Spice Girls split there was only ever going to be one true gay icon to emerge from the famous fivesome, and it was always going to be Geri Halliwell (now Horner). She was the first to release solo material and racked up numerous hits including this mega camp ditty. The promo for 'Bag It Up' included Geri literally birthing herself live on stage between the split legs of a giant woman, surrounded by hot, pink-haired dancers in hot pants. It was the 2000 BRIT Music Awards – and Geri the gay icon had arrived.
5) Sissy That Walk, RuPaul, 2013
In 2009 the drag world had become, some might say, passe. Gay venues across the UK, which had been drag's home, were in decline and closing down at a phenomenal rate. In London over 100 gay bars had closed since the year 2000. Then a somewhat forgotten drag queen star of the late 80s and early 90s launched a show that would change drag and its place in mainstream society. From that, RuPaul rose like a glittery phoenix and began releasing music. 'Sissy That Walk' came from her most successful album to date, Born Naked. The lyrics empower some of the most marginalised in our community.
6) Express Yourself, Madonna, 1989
It's hard to find which track defines the epicness of Madonna's credentials as a gay icon, but perhaps 'Express Yourself' comes somewhere close to the zenith. Its message of self-empowerment is as relevant today as it was back in 1989 when it was released.
7) Your Disco Needs You, Kylie Minogue, 2001
This is Kylie at pure campery. From the album that reignited her career, released in 2000, Light Years. Although 'Spinning Around' was the standout hit from the album, this has its own status as a pure camp classic.
8) Dancing Queen, ABBA, 1976
What gay anthem list is complete without an ABBA track? There are so many camp classics in the ABBA catalogue, but 'Dancing Queen' has many gay connotations from dancing drag queens to gay men who refer to themselves as queens. We think everyone should feel like royalty on the dance floor.
9) Firework, Katy Perry, 2010
Katy Perry released this track in 2010 and every pop fuelled moment is about being your most explosive self.
10) Stronger, Kelly Clarkson 2007
Kelly Clarkson became a bit of a lesbian icon after the release of her second album. The single 'Since You've Been Gone' is the ultimate song from this album, but her more recent output includes this uplifting song about strength.
11) All The Lovers, Kylie, 2010
Our second Kylie hit on this list. Although some Kylie purists might not class this as the gayest of Kylie's gay discography, its message is pure inclusivity.
12) Make Me Feel, Janelle Monae, 2018
Janelle Monae came out in 2018 as a queer woman and followed that news with this somewhat Prince-inspired track. It's sometimes hard to induct a new track into the gay anthem catalogue, but in years to come this song's meaning and video imagery will go down as iconic.
13) Outside, George Michael, 1998
This was the song in which George Michael publicly spoke out about his sexuality. It was the summer of 1998, and although his previous album, Older, eluded to being gay and fast love, it was after his very public arrest in an LA public toilet that GM made his sexuality known, loud and proud.
14) I'm Still Standing, Elton John, 1983
With a back catalogue like Elton's, where do you start? Despite the fact that Elton was "in" for the early years of his career, it wasn't until 1988 that he full left the closet, 'I'm Still Standing' seems like the perfect song to stand up against all that life might throw against you.
15) I Want To Break Free, Queen, 1984
Queen went complete drag for the video, which was unheard of at the time in 1984 when rock bands were beyond masculine. Freddie Mercury would go on to achieve legendary status after his death in 1991.
16) I Will Survive, Gloria Gaynor, 1978
If ever there was a survivor's song, Gloria Gaynor's disco hit is it.
17) Young Hearts Run Free, Candi Staton, 1976
The song came out of a story Candi had relayed to the writer, David Crawford. She told him that she had a hard time getting out of an abusive relationship. He replied that he was going to write a song for her that would "last forever". A new version of the song was released in 1999 and it peaked at number 29.
18) Finally, Cece Peniston, 1992
You can thank The Adventures of Priscilla Queen Of The Desert for making this song an undeniable gay hit – and one that countless drag queens around the world have mimed to ever since 1994. It wasn't even a hit when it was first released, managing to just creep into the top 30 in the UK. However, a re-release in 1992 meant that it reached a rather respectable Number 2.
19) Queer As Folk Theme, 2000
In 1999 a TV programme called Queer As Folk shocked and delighted the British public – but not in equal measure. These were the years where we were coming out of the AIDS crisis and into an era where sexual diversity and LGBT+ rights were being celebrated. A new dawn of equality was in the air at the turn of century. The repeal of Section 28 was just a few years away and Civil Partnerships were just around the corner. However, the rimming scene in the first episode caused, as you would guess, reactionary headlines from the right-wing and conservative newspapers.
20) All For You, Janet Jackson, 2001
"Nice Package alright, guess I'm gonna have to ride it tonight". With lyrics like these how could Janet Jackson's 2001 hit 'All For You' not be an anthem. In the US it was a number 1. Janet Jackson has since the 90s been seen as a gay icon. Her sexualised music and her long-term support of the LGBT community using her fame and even her music to speak out against homophobia have made her an LGBT+ favourite.
21) How Will I Know, Whitney Houston, 1985
Whether you choose Sam Smith's ballad version or Whitney's pop classic, this song is a pure anthem.
22) One Day In Your Life, Anastacia, 2002
One of the most feel-good anthems from powerhouse vocalist Anastacia taken from her second album, Freak Of Nature. Although it didn't chart particularly well, Anastacia told THEGAYUK.com "My thoughts would be is that I was hard to out do 'I'm Outta Love', and it was really close. It was a strong reminder and I think if anyone else did it, it might not have even gone that far, but because I did it, it was reminiscent". However we've chosen this song because the message is pure positive and a reminder that no matter how hopeless life can feel, it will get better.
23) Doin' It – Nathan's Theme, Queer As Folk, 2000
"I'm doin' it, I'm really doin' it" was one of the standout quotes from Queer As Folk as a young Nathan loses his virginity with Stuart. He boasts it loudly and proudly that he is having unapologetic gay sex. Bravo.
24) Stronger, Britney Spears, 2000
Britney's hit 'Stronger' is yet another song about winning against the odds and realising how much strength you have in you. Britney's place as a gay icon has long established. At the 29th GLAAD awards, she was awarded the Vanguard Award.
25) Girls, Rita Ora, Cardi B, Bebe Rexha, Charli XCX, 2018
Despite picking up some heat from social media, 'Girls' explores female sexuality and bisexuality and that doesn't happen all too much in music. Rita Ora did apologise for any offence caused, but many in the LGBT+ community voiced that she didn't need to make an apology.
26) The Best, Tina Turner, 1991
Usually, you can't go to a pride event without hearing 'Proud Mary', another iconic hit by Tina Turner, but we have to say that once we heard it sung as a love song between two men in Netflix's Schitt's Creek, we had to add this to our list.
27) Go West, Pet Shop Boys, 1993
It was only after the Pet Shop Boys performed this Village People original at an AIDS charity benefit in Manchester that the duo released it as a single in 1993 and is one of their campest, proudest songs.
28) We Are Family, Sister Sledge, 1979
Like Priscilla, The Birdcage forever cemented this Sister Sledge classic. You never be able to forget Gene Hackman lipsyncing to the track in full drag. Speaking to THEGAYUK about the song's icon status, Kim Sledge said, "Well I'll tell you, that anyone and everyone who embraced that song makes us feel amazing and grateful. It is a song of love and it's a song that embraces so we're ecstatic about it."
29) Like A Virgin, Madonna, 1984
It could be argued that this is the song that turned a young Madonna into a fully fledged pop queen.
30) Same Love, Macklemore & Ryan Lewis & Mary Lambert, 2012
In the UK, 'Same Love' reached number 6. It was released during the fight for the right for gays and lesbians to marry in Washington State in 2012, before same-sex marriage became legal in every state in the US.
31) Silent Whispers, Jake Hook, 2007
This song is from a relatively unknown, but openly gay singer-songwriter, Jake Hook, (although he more famously wrote for other artists) the song is a simple love song between two men, with a subtle hint within the lyrics, "When X&Y collide" and talks about a love which is difficult to be open about in public. It came from an EP which was named SXY from which he launched a sexual health campaign for gay and bisexual men in 2007.
32) Can't Take That Away, Mariah Carey, 2000
Despite not being a hit, Mariah's theme, is a strong reminder that she is by far, one the best female singer-songwriters of the 21st century. She teamed up with Diane Warren to write this, most intimate of songs. The song's lyrics speak about inner strength and not permitting anyone to tear you down. Plus the vocal run at the end is incomparable. The song comes from the album, Rainbow.
33) Beautiful, Christina Aguilera 2002
It was the video that accompanied this song which deserves a special mention. In fact Christina Aguilera won a GLAAD award for the song. It had a really positive representation of a gay couple and a transgender person, which was ahead of its time in 2002.
34) Somewhere Over The Rainbow, Judy Garland, 1939
The original gay icon, Judy Garland. This is the song that gave birth to the saying "friend of Dorothy", which was a code gay men used to identify each other before homosexuality became legal.
35) I Didn't Know My Own Strength, Whitney Houston, 2009
Before she died, Whitney Houston released this track. A testament to how, regardless of how powerless you might feel, that you are always stronger than you think.
36) Let It Go, Demi Lovato, 2013
Some have classed this song as the Coming Out theme of the 21st century a, perhaps, unintended gay anthem from the hit film, Frozen or maybe entirely intended!
37) Anytime You Need A Friend, Mariah Carey, 1994
Our second Mariah track is a soulful gospel song from the album that brought her wider recognition in the UK, Musicbox. The song's theme tells the listener that they'll never be alone and that anytime they need a friend, she will be there. Who wouldn't want Mariah as a friend, when they're in need?
38) I Kissed A Girl, Katy Perry, 2008
Although some have blasted Katy Perry for appropriating gay culture in this song for the purposes of gaining attention and sales. In 2018 Perry expressed regret about the lyrics saying, that she would edit them now. However, again, like Rita Ora's 'Girls' this song has a nod to bisexuality and experimenting with some of the same-sex – and liking it. It's all about opening minds y'all.
39) Man! I Feel Like A Woman, Shania Twain, 1999
Who can't help but wiggle their way through this song?
40) Born This Way, 2011
In 2011 Lady Gaga knew exactly how to speak directly to her LGBT+ fans. 'Born This Way' is the song for its generation. The lyrics are a lesson in inclusive and diverity as she pays tribute to many in our wonderful community.