Even in celeb-land anti-LGBT senitment is rife…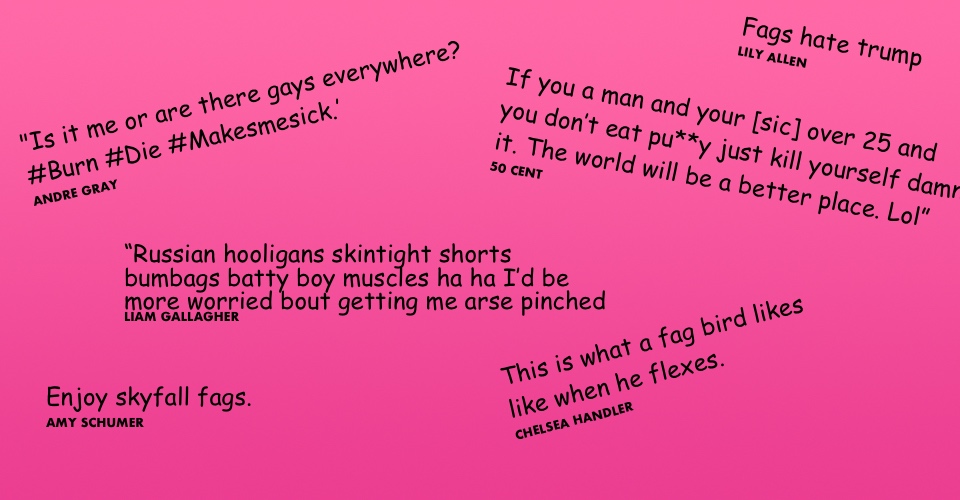 The word "Faggot" has been used million times of times. According to nohomophobes.com, it's been used over 39,500,000 times on Twitter since 2012. It shows just how far we've yet to go. However what is more distressing is that the celeb world has also had its fair share of anti-gay Tweeting action. We've done some digging and here are our top celebrity Twitter gaffes.
50 Cent
If you a man and your [sic] over 25 and you don't eat pu**y just kill yourself damn it. The world will be a better place. Lol"
50 Cent tweeted this in 2010, a day after a 19-year-old college student committed suicide, making national news, because of homophobic bullying.
We wouldn't call this a laughing matter.
Alec Baldwin
The actor took to Twitter to make a seemingly anti-gay slur towards the New York Daily News Editor in Chief British-born Colin Myler.
"Her Highness Colin Myler… Please don't do to the News what you did to NOTW…,"
Baldwin tweeted, just after taking to the microblogging site to write:
"Ever since that English Queen took over the Daily News, they lie like the Post…"
It's not the first time that Baldwin has been under fire for anti-gay language. In the 1990s, during a protest in New York City, he allegedly referred to a horse-drawn-carriage driver as a "fagg*t." and last year he ridiculed Senator James Inhofe (R-OK), Tweeting:
"We need to have Inhofe retire to a solar-powered gay bar."
Andre Gray
First up is Burnley footballer Andre Gray who posted a number of homophobic and offensive tweets in 2012. He was fined £25,000 and banned from four games.
One tweet read,
'Is it me or are there gays everywhere? #Burn #Die #Makesmesick.'
Amir Khan
I'm A Celeb's, Amir Khan, was allegedly found to have Tweets on his timeline which were found to be homophobic. In a tweet said to have been sent in 2011, Khan allegedly wrote, "Nothing against them. Sort it out lad. No wonder pple think u like boys haha".
In another post from 2010, a tweet which read, "Abuse @saj23x for keeping pictures on his phone, he is defiantly gay after today's tweet. Asll the guys beware, @saj23x is GAY" was sent from his official account.
Amy Schumer
For someone who might consider herself an LGBT+ advocate, she certainly knows how to swing an anti-gay slur. In November 2012 she used the word fag on Twitter saying, "Enjoy skyfall fags. I'm bout to get knee deep in Helen Hunt".
Enjoy skyfall fags. I'm bout to get knee deep in Helen Hunt #thesessions

— Amy Schumer (@amyschumer) November 12, 2012
Azealia Banks
The rapper has repeatedly taken to Twitter to call gay men Faggots and has on several occasions verbally attacked Perez Hilton, calling him anti-gay slurs.
Blake Shelton
Blake Shelton tweeted a series of messages in 2010 which would later go on to haunt him before appearing on The Voice USA in 2016.. In one message he wrote,
"Grown men who wear Chuck Taylor's may as well write on their fore head "Cucumbers turn me on!!!"
and then a year later he wrote,
"Standing in line at a coffee shop in LA talking with the man in front of me. He orders a skinny caramel latte. I couldn't tell he was gay!!!'
One Twitter user managed to find a cache of tweets considered homophobic,
https://twitter.com/blakeshelton/status/765957327988072448/photo/1?ref_src=twsrc%5Etfw
Cee Lo Green
Answering a music critic who called Cee Lo Green's show "gross" and "inept", the "Forget You" hit-maker tweeted,
"I respect your criticism, but be fair! People enjoyed last night! I'm guessing you're gay? And my masculinity offended you? Well f**k you!"
Chelsea Handler
In 2010 Comedian Chelsea Handler used the anti-gay slur "fag" in a Tweet, she wrote,
This is what a fag bird likes like when he flexes. http://tweetphoto.com/26898127

— Chelsea Handler (@chelseahandler) June 12, 2010
Chris Stokes
The Coventry City footballer Chris Stokes Caused outrage after he appeared to tweet an anti-gay slur.
'This games [sic] embarrassing to watch!' he said. 'Bunch of faggots.'
The tweet was sent whilst Leicester City won the Premier League in May 2016.
Daniel Thomas
The Welsh footballer was £500 and handed a one-match suspension for sending an abusive message to Olympic diver Tom Daley on Twitter.
Port Talbot Town midfielder Daniel Thomas was cleared of any charges earlier this year by police after tweeting a homophobic message relating to Daley and his diving partner Peter Waterfield's performance at the London 2012 Olympics in July.
A tweet later appeared on the footballer's account that said:
"If there is any consolation for finishing fourth at least Daley and Waterfield can go and bum each other #teamHIV."
Hazel E
Not Twitter this time, but on Instagram. Hazel E star of the Love & Hip-Hop Hollywood TV show asked her gay fans to forgive her for saying, "burn in hell just like God said in the bible"
She made the comment in a comment on her boyfriend's already homophobic Instagram post, which proclaimed that he said he hoped all gays would die and go to hell.
Jack Maynard
Jack Maynard's departure from I'm A Celebrity Get Me Out Of Here caused a huge media stir – with millions of viewers at home in the UK wondering what he had done so wrong to warrant leaving the jungle after just two days. Well, dozens of anti-gay tweets were discovered on his Twitter timeline dating back at least five years. Numerous racist slurs were also found on his timeline. The YouTuber left the jungle and it took him nearly three days to apologise for his error. It was an apology that didn't go down particularly well – after he used a well-worn cliché "I've got lots of gay friends" during his interview with The Sun.
Jared O'Mara
An MP who sat on the Women's and Equality Committee had past homophobic and sexist forum comments unearthed by the political website, Guido Fawkes. The MP, who unseated Nick Clegg in the last General Election, was said to have used numerous anti-gay slurs on the Morrissey Solo website forum and Drowned In Sound. Terms such as "fudge packers" and driving "up the marmite motorway" to describe gay people were used and a message was written that said gay people were "bitter and resentful about being homosexual".
The Labour party took action to suspend the newly elected MP for Sheffield Hallam. He also resigned from the Women's and Equality committee.
Jeremy Clarkson
The former Top Gear presenter was accused of homophobia after he tweeted a "judge packer" tweet.
Jeremy Clarkson uploaded a picture of himself and Richard Hammond standing outside a fudge factory with the caption "We have got jobs at last. Here. As packers."
Josh Rivers
Josh Rivers, the new editor of Gay Times was suspended and then fired after just 20 days in the job, following the discovery by Buzzfeed, of antisemitic, lesbian hating, body shaming and anti-Asian tweets in his Twitter timeline. The majority of tweets were published between 2010 and 2015.
Rivers was working on a mandate of promoting inclusivity and diversity at the magazine when a number of incendiary comments on his Twitter account between 2010 and 2015. Some of the tweets which have been deleted described Jews as "gross" and some directed hatred towards lesbians, overweight women and men, and Asian and Chinese people. Apologising for his tweets, Rivers wrote: "To every single person who is hurt, offended and disappointed: I'm sorry".
He has now deleted his profile and now works for UK Black Pride as the Communications Director.
Katie Hopkins
This year Katie had problems with Rainbow police cars, police marching in pride parades, non-binary people, transgender people, the LGBT+ community in general. To be honest, her twitter timeline is full of moans and angry tweets – but fear not, apparently she deletes her entire catalogue once a week, so the offensiveness doesn't last long. Screengrabs, however, are forever.
As long as it's not near me, sunshine. pic.twitter.com/W9VNHw7yXq

— Katie Hopkins (@KTHopkins) December 29, 2017
Liam Gallagher
Former Oasis singer Liam Gallagher was accused of homophobia after "batty boy" tweet.
Liam Gallagher faced tough criticism after a homophobic tweet was sent from his Twitter account, in which he used a gay slur to describe the behaviour of Russian football supporters.
In the  tweet the former Oasis singer said,
"Russian hooligans skintight shorts bumbags batty boy muscles ha ha I'd be more worried bout getting me arse pinched LG X"
Lily Allen
British singer, Lily Allen used the word "fags" on Twitter and got a response, trouble was it probably wasn't the one that she was probably hoping for. Her Tweet, "Fags Hate Trump" did not go down well it's fair to say. The singer was swiftly admonished by many in the community. Some called the singer 'homophobic'.
Miriam Quiambao
A former beauty queen from the Philippines took to twitter earlier in the year to tell her 300,000+ followers:
"Homosexuality is not a sin but it is a lie from the devil. Do not be deceived. God loves gays and wants them to know the truth. LGBT or straight, man or woman, young or old, we all deserve love, respect and acceptance. We all need a saviour on Jesus Christ. God loves"
She did later apologise for the comments.
Nick Griffin
The least said about this former BNP leader the better. However, Nick Griffin does make our Anti-Gay Tweeter list.
Last month he called upon his legion of fans to make their merry way to the house of Michael
Black and John Morgan who won their discrimination case against a B&B owner who wouldn't allow the couple to stay the night at her business. He tweeted from his @nickgriffinmep account two tweets which read: "So Messrs Black & Morgan, at [their address]. A British Justice team will come up to Huntington & give you a…
"…bit of drama by way of reminding you that an English couple's home is their castle. Say No to heterophobia!"
His Twitter account was suspended for one day before being reinstated.
Heterophobia? Yes, you read that right.
Nile Ranger
A forward for Newcastle and Walsall's Manny Smith were handed fines by the FA for their conduct. The content of the tweet is unknown however the FA decreed that the behaviour was "improper and/or brought the game into disrepute", including "a reference to a person's or persons' sexual orientation"
Ranger must pay £6,000, Smith £1,200.
Ravel Morrison
Morrison was criticised and fined after a violently-worded message appeared on his Twitter page with a gay slur this year.
He was fined £7000 for the outburst.
The message on 19-year-old Morrison's account reportedly read:
"Crack head? Go suck out u little faggot your a guy that talks if u see me you try slap me I'm in manchester every week."
Rebekah Vardy

Yet another 2017 I'm A Celeb alumni was allegedly found to have casual homophobia found on her Twitter timeline. Vardy never commented on the Twitter and has not apologised for the offensive tweet.
Roland Martin
A US political commentator Roland Martin has apologised for causing any offence after sending a tweet during Sunday's Super-Bowl which suggested: "smacking the ish" out of a man who enjoyed David Beckham's H&M advert.
Sarah Silverman
Silverman has used anti-gay slurs numerous times on Twitter. In 2010 she used the word "faggot" to describe a new series of The Bachelorette.
I dont mean this in a hateful way but the new bachelorette's a faggot

— Sarah Silverman (@SarahKSilverman) May 25, 2010
Stormzy
Nearly 20 homophobic tweets were found on the BBC's 'Artist of The Year' – Stormzy's twitter account. The tweets, some of which dated back to 2011 used homophobic slurs, like "no homo" and "faggot" to blast critics on his social media account.
Stormzy was swift to issue an apology. In a statement, he wrote that the messages sent from his account were "unacceptable and disgusting". He also said sorry and that he regretted sending the messages.
Tom Barber

Homophobic tweets sent by Big Brother housemate, Tom Barber came back to haunt him after it was revealed that he allegedly used the homophobic slur "faggot" and used "gay" and "lesbian" as pejorative descriptions in tweets sent to friends.
Channel 5, the broadcast of Big Brother refused to remove him from the show, despite previous housemates from other series being removed for racist language on their Twitter accounts.
Zoella
One of Britain's most popular YouTubers, Zoella, was caught with homophobic comments on her Twitter timeline. The 27-year-old who has over 12 million subscribers on the Google-owned platform, tweeted, "I find it funny when gay men spit… it's like they're trying to be a bit macho but never works". The tweet dated back to 2010, before Zoella became the household name.
In 2011 she allegedly wrote a tweet with an anti-trans slur saying,  "Are they honestly letting a tranny in a policeman hat speak to them like that? How odd! Haha x".
In her apology she wrote, "I've seen a few of my old tweets from 7/8 years ago floating around (which I have now deleted) using words like "chav" "skank" and other words I wouldn't use now as part of my language and lot of them were taken out of context referring to TV shows but I would never say those things now and I'm sorry if I have offended anyone, that was not my intention.
"Obviously that is not who I am today and I'd like to think I'm a little older and wiser! I'm not perfect and I've never claimed to be, I'm only human!"
Please follow and like us: