The entire editorial team has been laid off
Grindr's digital magazine, Into, which was launched in 2017, has been effectively shuttered with all its editorial staff, contributors and social media workers laid off as the Chinese-owned dating app company looks to focus on other areas, including "video".
Scott Chen, who was last month lambasted for saying that he believed that marriage was "a holy matrimony between a man and a woman" (a statement which he was forced to clarify) wrote to the outlet's team to say the company was going to focus its efforts on video.
He announced the layoffs in an email, which Out have published.
He wrote,
"Team,

As with any growing business, we have to continually evaluate what is best for Grindr. After a thoughtful and collaborative process, we decided to modify INTO's content mix to rely more heavily on video. This decision was driven by the high user engagement and development we see through channels such as video and YouTube.

This was a difficult decision, but with this new strategic focus, several INTO employees will be leaving the company. Our leadership is proud of the work INTO has done and know that it has served an important role in our business and overall mission.

We want to thank our INTO colleagues for their contributions to Grindr and wish them well. In the meantime, we ask that we all stay focused on fulfilling our important mission together and serving the LGBTQ+ community.

In the coming weeks, we will be sharing our 2019 goals and beginning the process to redefine our mission,vision, and values as an organization.

Best,
Scott"
According to available stats from SimilarWeb, IntoMore.com receives over 7.5 million unique readers a month, bigger than all of its main competitors.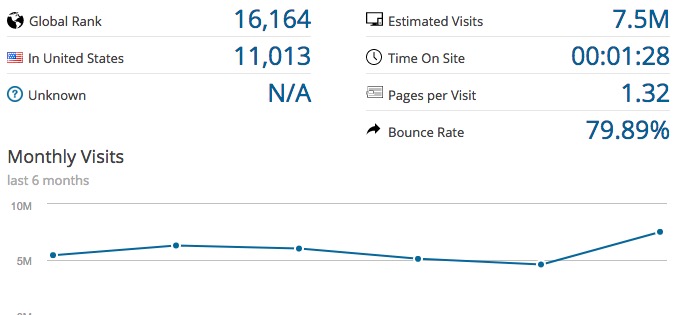 Into's staff replied with a statement, which read,
"During our nearly two years, we created incredible, award-winning content for and about the LGBTQ community worldwide,

"We have been awarded with a GLAAD nomination and honored by the National Lesbian and Gay Journalists Association (NLGJA); we were also given a special award from the Transgender Legal Defense and Education Fund (TLDEF). We told stories of transgender prisoners forced to endure nightmarish treatment behind bars, LGBTQ asylum seekers looking for hope and refuge in the United States, and drag queens fighting for space and community in small town Tennessee.

"We shared the hopes and joys of the LGBTQ community, our successes and setbacks, and our triumphs and heartaches during a vulnerable political moment. We aimed to give a voice to those who need one now more than ever, a platform for them to see themselves represented wholly."