Torsten In Queereteria is the third solo album by Andy Bell (Erasure) performing as alter-ego Torsten, a semi-immortal polysexual who is destined to love many, lose many and be haunted by bittersweet memories, due to his unnaturally elongated life.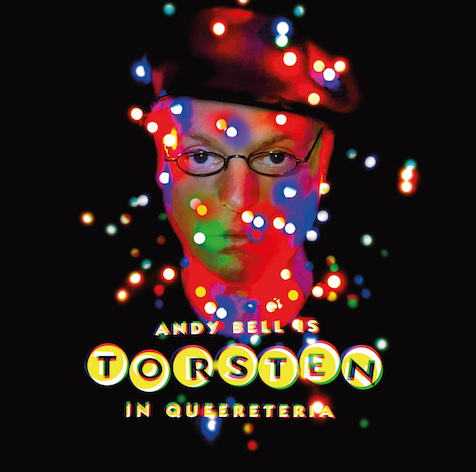 The album is released on 12th April through Cherry Red Records. It's a role Andy first took up at the Edinburgh Fringe Theatre Festival in 2014 in 'Torsten The Bareback Saint' and a role reprised by him in the critically acclaimed 2016 follow up, 'Torsten The Beautiful Libertine', which enjoyed a sell-out 4 week run at London's 'Above The Stag' Theatre.
Here's a YouTube link to first track to be taken from the album – We Hadn't Slept for 20 Years:<
'Andy Bell Is Torsten' is a unique collaboration between a singer (Andy Bell), a poet / playwright (Barney Ashton) and a musician (Christopher Frost). Their new album is structured around 4 separate themed 'Acts' which deal with different aspects of both Torsten's life story and his self-realisation. As with previous Torsten albums, each song is designed as if a postcard insight into a particular hot-spot of memory.
Track listing is:
Act 1 : Remembrance, Youth and Beauty.
01 – A Hundred Years Plus Today
02 – You Stampede An Open Wound
03 – Lowland Lowriders
04 – I Am Of The Sea
Act 2 : The Hedonism And The Hurting.
05 – Cabaret Awayday
06 – Queereteria
07 – If We Want To Drink A Little
Act 3 : Bitter Regrets.
08 – Thou Shalt Be My Vibe
09 – Money With Menaces
10 – Let's Be Sober Another Time
11 – Come And Taste My Breakdown
Act 4 : To Mourn And To Miss.
12 – To Know Good Men From Perverts
13 – We Hadn't Slept For Twenty Years
14 – Silence Is Golden
15 – Not Opting Out
Album opener A Hundred Years Plus Today is Torsten in reflective mood as to the longevity of his life, it precedes three recollections in song of intense moments from times spent with his earliest friends and lovers, and the hope embodied in coming from a coastal town, that the sea might deliver temptations in the guise of sailor lovers.
Act Two narrates a headlong bounding into hedonism; interacting with strange seaside town cottage cruisers in Cabaret Awayday, to the respite and debauchery afforded by trips to the Queereteria club and a stout defence of partying and drunkenness in If We Want To Drink A Little, a duet with one of Andy's personal heroes, Hazel O'Connor of 'Breaking Glass' fame.
Act Three is the realisation that one has, perhaps, hit rock bottom and become a tad unpleasant and bitter. Thou Shalt Be My Vibe portrays a manipulative, drugged-up, drunk Torsten driving a potentially exploitative relationship. Money With Menaces is an ode to the bitterness of both parties in a rent-boy / older punter relationship. Let's Be Sober Another Time sees Torsten in denial of his chronic alcoholism which leads, in turn, to a mindless and provocative challenge to all his remaining friends and cohorts to Come And Taste My Breakdown at the end of Act Three.
Levity is restored in Act Four in which an older Torsten is in more reflective mood about leaving his partying years behind. To Know Good Men From Perverts is the culmination of the experience that life affords in learning one of its ultimate lessons, the discernment between those who we can trust and those who seek to harm us. We Hadn't Slept For Twenty Years, the lead single from the album, is a loving reminiscence of close friends and the mayhem and mirth of their formative years partying with a vengeance! Silence Is Golden pays tribute to an aged lover who has recently died; someone who sublimated the existential angst and fear of knowing he was nearing death by a mania to read widely and an insistence on Silence to enable him to do so. Not Opting Out, the album's defiant closing number, is Torsten's reckoning that though his own life may be nearer its end, that he remains stalwartly an active participant in it, even though the ever accelerating pace of global change is exhausting.
CD: https://www.cherryred.co.uk/product/andy-bell-torsten-in-queereteria-cd/
Please follow and like us: