Trans activists used today's Manchester Pride parade to protest in solidarity with trans prisoners.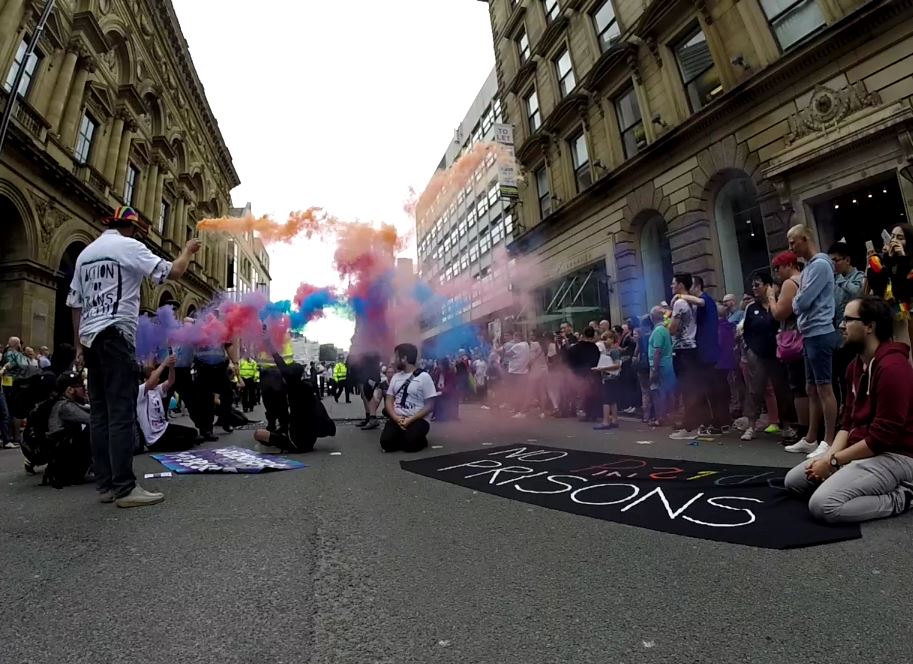 A number of trans and ally activists used Manchester's Pride parade to protest trans prisoner conditions.
The group which was led by trans campaign group Direct Action for Trans Health, supported by No Prisons Manchester and the IWW Incarcerated Workers Committee surrounded the Greater Manchester Police float during the parade, bringing the entire procession to a standstill for a few minutes.
The group used their bodies to sit in front of the float preventing the parade from moving for a few moments before the parade was able to start again.
A statement released by the group is arguing that  trans people sentenced to jail are often sent to prisons of the wrong gender, citing the high profile cases of Tara Hudson, Vicky Thompson, and Joannne Latham – female prisoners who were sent to male prisons.
The statement said,
"Trans people within the prison population are often housed within prison facilities of the wrong gender. Recently we have seen the cases of Tara Hudson, Vicky Thompson, and Joannne Latham, trans women incarcerated within male prisons, in the news. Thankfully Tara Hudson has now been released but sadly Vicky Thompson and Joanne Latham died as a direct result of the institutional transphobia within the prison system. We believe that police officers, regardless of their own sexuality or gender identity, are complicit in the prison system's degradation of human lives and the oppression of LGBTQ people.

"Whilst research on sexuality and gender identity within prisons is scarce, we know that Lesbian, Gay, Bisexual, Trans and Queer (LGBTQ) people are disproportionately policed and disproportionately represented in the prison population.

Whilst in prison, LGBTQ people often face severe discrimination, including increased risk of sexual assault, with many being forced to hide their sexuality or gender identity for their own safety"
Jess Bradley, a participant in the action, said,
"It's outrageous that police officers, who collude in the oppression of LGBTQ people within prisons, are allowed to march at Manchester Pride. Today we have taken action in solidarity with trans and queer prisoners and against the building of a new US-style prison in Manchester. We call upon the government to implement a nationwide ban on prison expansion and an urgent review into the conditions within prisons for LGBTQ prisoners".
TheGayUK reached out to both Manchester Police and Manchester Pride for comment.