When you think of the Wartime romances, the stories of gay veterans is often overlooked. The musical Yank! is about to set that right.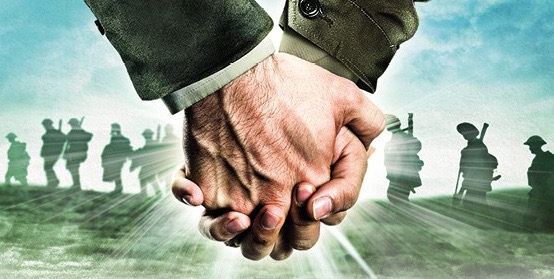 YANK! is a moving gay love story set in World War Two, is told through a MGM-style musical. The focus is Stu, a scared Mid-Western young soldier in the US Army in 1943. He becomes a photographer for Yank Magazine, the journal 'for and by the servicemen'. He finds himself in a world at war asking himself what it means to be a man. He also happens to fall in love, with Mitch, a fellow soldier.
During a time of extreme prejudice, you only have to look at how the Government of the day treated code-breaker Alan Turing for evidence of that, the two men must fight against the odds to stay alive and stay in love.
The musical opens at the Hope Mill Theatre in London from 9th March until the 8th April, tickets are on sale now.
Yank! will be directed by James Baker, and co-produced with Ben Millerman from Mr Millerman Presents. Completing the creative team for YANK! are James Cleeve as musical director; choreographer Chris Cuming; designer Victoria Hinton; lighting designer Aaron J. Dootson; sound designer Chris Bogg; and casting director Ben Newsome.
YANK! is the first in a hat-trick of productions for 2017 through a proven partnership between Aria Entertainment and the award-winning Hope Mill Theatre. They first joined forces in January 2016 to spearhead the arts venue as a platform to showcase, revive and bring new musical theatre to the North.
Aria Entertainment's Producer and Company Director Katy Lipson commented,
"We are delighted to be opening our 2017 season with the European Premiere of the beautiful new musical YANK! I discovered YANK! almost three years ago and, after starting to collaborate with Hope Mill Theatre in 2016, I knew it was the perfect venue for its premiere – and that James Baker who directed Parade last year would also be the right director for production. We are extremely excited with all we have planned for 2017 and beyond."
Find out more from the show by checking out their Twitter