If you've never had a weekend away in Blackpool then I demand you book a train right away and head for the North West coast where you'll find this unique entertainment town.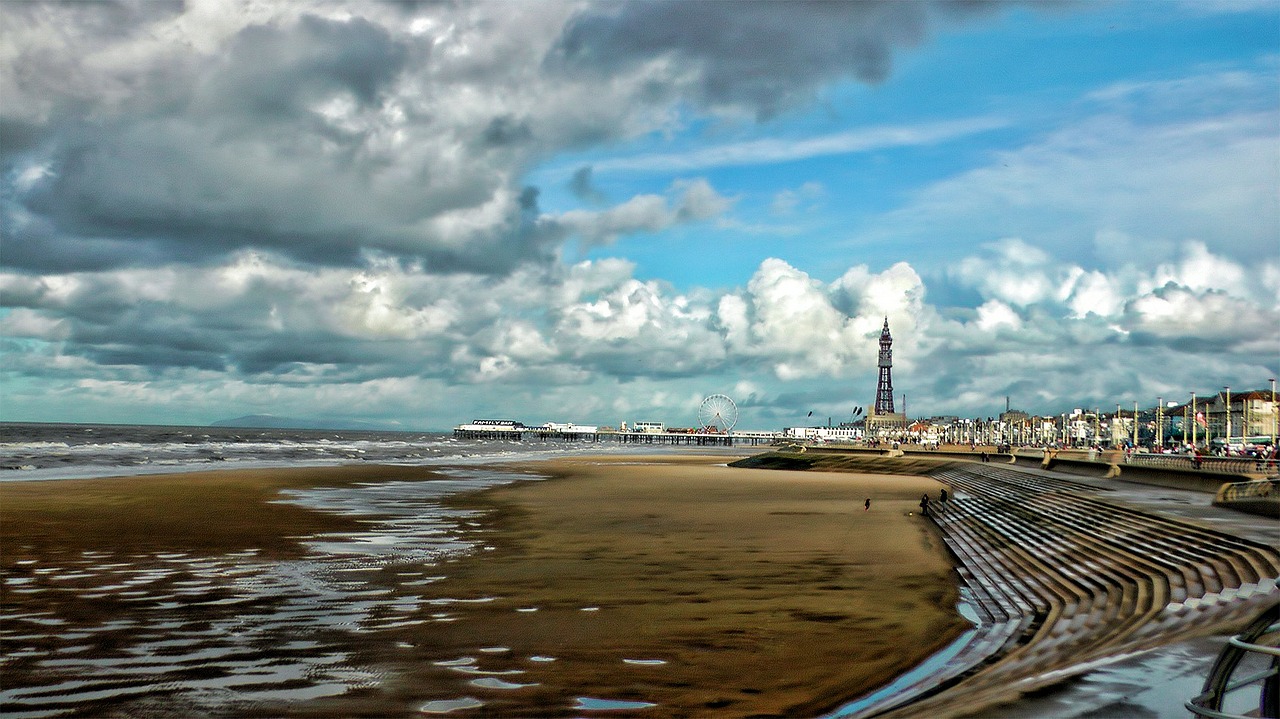 The seafront, known as the Golden Mile, is home to the world famous Blackpool Tower, three piers, the Pleasure Beach and the largest display of illuminations you'll find in the UK.
Often referred to as the British Las Vegas, Blackpool has an entertainment scene like no other with a number of gay bars and clubs, live cabaret shows, theatres and amusements. Highlights include the Blackpool Tower with its famous Ballroom, the 'Big One' roller coaster that gives you fantastic views on the way up, and the new comedy carpet outside the Tower that has over 1,000 famous names and comedy quotes set out over 2,200 square metres.
With over thirty gay-owned and run B&Bs you'll be sure of a personal and entertaining stay. So pack your trunks, your chuckle muscles, your head for heights and your sense of adventure as you explore the brightest jewel in the North West.
The Gay Bars
Flamingos
With seven nights of clubbing at the world famous Flamingo Club, attracting some of the biggest named DJs and club nights, you'll be sure of a memorable night out.The club has an open to all, closed to prejudice policy, so you're guaranteed of a great party atmosphere. The club illuminates from the brightly coloured dance floor, which calls for you to show it your best moves.
Address: 44 Queen Street, FY1 2AY Telephone: 0125 364 9151 Website: FlamingoOnline.co.uk
The Flying Handbag
One of Blackpool's longest running venues, You'll be in for a great time day or night. The long bar offers plenty of seating for a daytime catch up with friends and dance floor space.  There's a cabaret stage, for a whole host of entertainment, plus a snack bar, should you be feeling peckish during the party.
With all you need in one place, you'll need a good excuse to leave.
Address: 44 Queen Street, FY1 2AY
Telephone: 0125 364 9155 Website: flyinghandbagonline.co.uk Twitter: @FlyingHandbag
Roxy's
Address: 23 Queen Street, FY1 1NL Telephone: 0125 362 2573 Website: RoxysOnline.co.uk Twitter: @RoxysOnline
Tabii Bar / Kitty's
Address: 23 Dickson Road, FY1 2AX Websites: Taboobar.co.uk WorldFamousKittyLitter.co.uk
Kaos
Address: 38 – 42 Queen Street, FY1 2AY Telephone: 0125 331 8798
Website: kaosbar.co.uk
Twitter: @KaosBlackpool
Hotels and B&Bs
If you're travelling to Blackpool for a party, the Pride weekend or a holiday then you're in for a treat. Blackpool has the largest selection of gay-run B&Bs in the world and all offer the home comforts and personal touches that you just can't find in a chain brand hotel. Furthermore, the proprietors have pulled together to bring you the BAGS card – Blackpool Accommodation For Gays. Founded in 1997, the BAGS card will not only ensure your stay in Blackpool will be a friendly and welcoming experience but it'll also give you fantastic discounts in over 60 establishments around Blackpool, including Bars, Cafes, Restaurants, Shops, Shows and Theatres. You can pick up your free discount card from one of the following accommodations.
If there's availability left then try a stay at the popular Granby Lodge B&B set in the heart of Blackpool's gay scene. Brian and Geoff have an unfailing love to ensure your stay in Blackpool is welcoming and comfortable. Plus they cook up one of the best breakfasts in the North- West. Rooms from £30.
Top Attractions
Blackpool Illuminations
Blackpool Promenade, Blackpool, FY1 5BE
Since 1879, Blackpool has been illuminating the promenade road which runs the length of the sea front. Attracting over 3.5 million visitors last year, the Blackpool Illuminations are the highlight of the calendar. Launching at the end of August, a well known face will switch on the 400,000 bulbs.
Pleasure Beach
Ocean Boulevard, Blackpool, FY4 1EZ
Tel: +44 (0)871 222 1234
The most fun you can have in one day out is all located within the Pleasure Beach walls. Carnival-style games, illusion and cabaret shows and not forgetting a collection of thrill seekers rides including the Big One!
The Big One climbs you to a height of 235ft. before dropping you at up to 87mph along the one-mile track.
Other unique rides include the Steeplechase where you choose a horse and race alongside other on separate tracks and the Avalanche where you free fall down a track at 50mph in the UK's only bobsled ride.
Blackpool Zoo
East Park Drive, Blackpool, FY3 8PP Tel: +44 (0)1253 830 830
A wide selection of animals both large and small await your visit at Blackpool zoo in natural enclosures giving you a close up view of these magnificent creatures.
The Blackpool Tower
THE BLACKPOOL TOWER
Bank Hay Street, Blackpool, FY1 4BJ
Tel: +44 (0)871 222 9929
Celebrating 120 years the Blackpool Tower has been home to all the greats of British comedy. Visit the beautiful Ballroom with its famous Wurlitzer organ, rising from the floor. The tour starts with a 4D show on Blackpool including sights, smells, and special effects. From here you'll enter the SkyWalk room at the top of the tower for uninterrupted views, including underfoot!
Blackpool Pride
Winter Gardens 97 Church Street Blackpool
FY1 1HU
Yearly event in June.
Blackpool Pride this year will be bigger and better than ever before with headlining act 5th Story performing alongside other special guests. The Winter Gardens are also hosting the European Same-Sex Dance Championship. So grab a partner or some friends and make sure you're part of the North West's biggest party.