Ahh, the 1980's….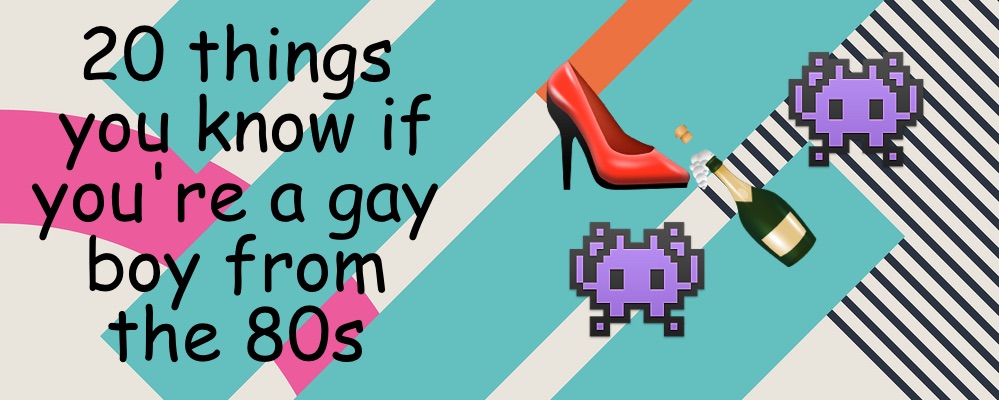 1. When Harrison Ford appeared as Indiana Jones and elevated archaeology to the sexiest profession known to man.
2. When the government passed Clause 28 of the Local Government Act 1988 which made it illegal for any Local Authority to "intentionally promote homosexuality or publish material with the intention of promoting homosexuality" or "promote the teaching in any maintained school of the acceptability of homosexuality as a pretended family relationship". It was only repealed in 2003.
3. When Madonna arrived, and although her first single, "Holiday", was released in 1983, it wasn't until 1984, with her second album, Like A Virgin, that she really blew the gay boy's minds, cavorting around in Venice and having diamonds thrown at her whilst dressed up like Marylyn. She has been a gay icon ever since.
4. When Colin and Barry had a kiss on Eastenders, making it the first UK soap opera to feature a gay kiss and sending the media into a frenzy with no more than a quick peck between the two men.
5. When Boy George appeared on Top of the Pops, causing fathers in their living rooms to tut in disgust, and school children to debate in schoolyards up and down the country the following day as to whether the singer was a boy or a girl.
6. When the "AIDS – Don't Die of Ignorance" campaign meant that as the reality of AIDS took hold; the Government terrified everyone with their now infamous campaign. The "gay plague", as it was called by the media, had started to hit home.
7. When Bronski Beat hit the charts with "Smalltown Boy", about a young gay man running away from home to hide his sexuality, and gay musicians came onto the pop charts, including Erasure, Culture Club and Mark Almond.
8. When the New Romantic music movement meant that it was ok for guys to wear eyeliner, pixie boots and use a can of hairspray on their hair every night.
9. When the age of consent for the gay community was 21 years of age, whilst heterosexual couples could consent to sex at 16.
10. When Larry Grayson was the campest thing on Saturday evening television, with his innuendo-filled humour and his famous "shut that door" catchphrase.
11. When Princess Diana and Prince Charles got married; and there wasn't a gay dry eye in the house. Even before she broke down prejudice by visiting HIV and AIDs patients (amongst her many other charitable causes), she was always adored by the gays.
12. When Stonewall was founded in 1989, which grew out of a small number of people, including Sir Ian McKellan, who had been campaigning against Clause 28. The green shoots of progress were starting to appear towards the end of the 1980's and Stonewall's arrival heralded a more public struggle.
13. When Friday night simply wouldn't be complete without watching The Golden Girls. "Thank You For Being A Friend", went the theme song, and Dorothy, Rose, Blanche and Sophia were friends to us all.
14. When Frankie Goes To Hollywood were banned from Top of the Pops and Radio One after releasing "Relax". The band misbehaved themselves in a rather suggestive video to accompany the song, which got Radio One DJ Mike Reid all upset and Auntie Beeb's knickers in a twist. The single shot to number one in the charts.
15. When after-school cartoons were full of hunks, whether it was He-Man flexing his muscles, Hank the blond haired, handsome ranger from Dungeons and Dragons or Jason from Battle of the Planets, there was always someone to swoon at.
16. When The Weather Girls gave us the ultimate weather forecast.
17. When John Walters out-gayed himself with his movie, Hairspray; bringing together Divine, Rikki Lake and Deborah Harry into one huge ball of campness and a film about those who don't quite fit in.
18. When Scott and Charlene (aka Jason Donovan and Kylie Minogue) got married on Neighbours, doing so not only to the dulcet tones of Angry Anderson (not the most suitable name for a ballad singer) but to the delight of gays everywhere
19. When La Cage aux Folles opened on Broadway, and spawned the hit "I Am What I Am", which got the gays feet moving when it became a huge disco hit (and gay anthem) after being released by Gloria Gaynor.
20. When Care Bears made the world just that little bit gayer.
Please follow and like us: