★★★★ | Mamie's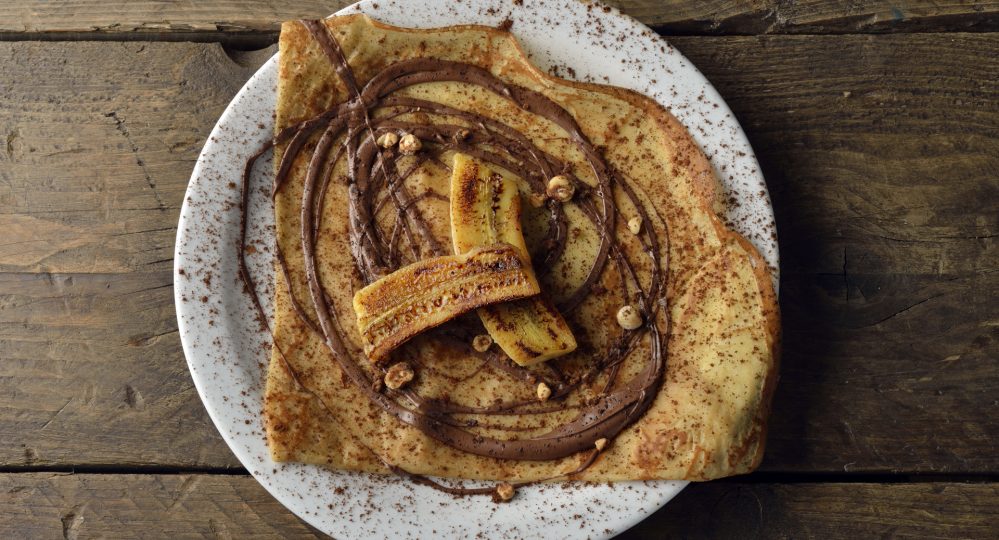 If you're looking for an excellent crépe in Covent Garden, I've got the place for you.
Mamie's, on Catherine Street, right across the street from the Theatre Royal where Charlie and the Chocolate Factory is playing, serves many varieties of crépes – both sweet and savoury (also known as galettes). Nestled in a three-story building, Mamie's is a cozy place for cozy food and has something for everyone. If you're looking to make the visit a full meal, then your first course will be a galette – there are 9 galettes to choose from, all made from buckwheat, gluten free, and healthy. If you like salmon, you're in luck – there is Salmon and Cheese as well as a dish called La Baudelaire, which my lunch companion had, with salmon, mushrooms, a fried egg, and cheese, along with lettuce on top. At £9.50 it's a bit pricey, but it's served open-faced (as opposed to rolled up) – and it is large. Other options include the Forest Compléte – egg, ham, emmental cheese, créme fraiche, mushrooms and onions (£8.90), and the cleverly-named L'Edith Piaf – blue cheese, pears, walnuts and mixed salad leaves (£7.90). I had the delicious La Chateaubriand – a rolled galette wth sausage, onions, whole grain mustard and mixed salad leafs – a snip at £7.90 – and very very tasty.
Of course, when I think of crépes I always think of the sweet kind – the ones you buy at markets and, if you've been to Paris, you can find loads of créperies that serve them – they're a French institution! And at Mamie's they're delicious! I had the homecooked apples and cinnamon crépe. Talk about perfect, it was so so good, and very large, and at only £4.90 an excellent deal. You can choose from other options including Nutella (£4.90), pears and chocolate (£4.90), La Magritte – home cooked apples, caramel and vanilla ice cream (£6.90) or the La Henri Dés – Nutella, caramel and marshmallows (£5.90). Or if you're a bit too full from your main course, then a butter & sugar or a lemon & sugar might be best for you (£3.00 and £4.50 respectively).
Mamie's also has a small menu of starters including tapas and salads (though two were sold out on the day we visited), as well as an excellent beer and cider menu, and a cocktail menu that are specially-made and all at £8.00. But Mamie's is very unique in two aspects of its business – the way you order and what you order. When you sit down you are given a computer tablet to place your order. Each course and drinks options are on the main page – and each dish has a picture of it – so you know what you're getting! But even more clever is that for each galette and crépe, you can add additional items as toppings. So in the case of one of the galettes, you can add more salad, honey, an extra egg, ham, or onions, all at a very small surcharge. And in the crépe world, feel free to add jam, chocolate, pears, apples, perhaps turn it into a flambée – almost anything you want! There is also dairy free and vegan options. So if this doesn't entice you I don't know what else will!
French born Aymeric Peurois opened Mamie's in early August and has designed his restaurant in the style of Brittany. As a child, he used to go to his grandmother's house in Brittany (Mamie's means grandmother in French) where she used to make crépes. So Aymeric, who is a former financier, decided to leave his job and open Mamie's, which can seat around 40 people on both the ground and first floor (though five of the tables on the first floor are extremely close to each other). Aymeric is very passionate about the place, and he has plans to turn the basement into a cider bar/cider cellar. It's a beautiful room, made to look like a speakeasy, and it's got a see-it-to-believe-it large map of Brittany on the ceiling! Très incroyable! I really wish Aymeric all the luck in getting this business established and successful – it's a very cute and cosy spot right in the heart of the West End.
Reviewed by: Tim Baros
Address: 19 Catherine St, London WC2B 5JS, UK
Phone: +44 20 7836 7216
For opening hours and to check the menu, please visit:
mamies.co.uk