★★★★ | Evita, London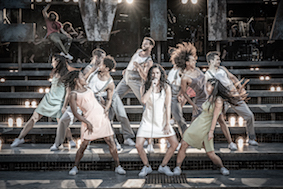 One of the biggest, best and most well-known of shows has made another return to London.
Evita, which has been around since 1978, tells the story of Eva Peron (a/k/a Evita) who was the wife of Argentine President Juan Peron from 1946 until her early death in 1952 at the very young age of 33. She has been immortalised in this show that was written by the duo Tim Rice and Andrew Lloyd Webber, with this being perhaps their most popular and famous collaboration.
The songs in this show are epic. "You Must Love Me," "Buenos Aires," and of course "Don't Cry for Me Argentina" – perhaps one of the most famous songs ever written for a piece of musical theatre, are all here. Madonna brought Eva to life in the 1996 film version which made Eva perhaps more popular than when she was alive.
Now there is a new production in the gorgeous venue that is the Regents Open Air Theatre. In a set that can be called bare-bones (there is, unfortunately, no proper set, just a wide staircase that leads up to the orchestra), it allows the cast to sing and dance to their heart's content.
Samantha Pauly is tasked to play the lead role – it's a role, if you remember, where Elaine Paige and Patti Lupone both nailed. Pauly doesn't quite nail it – she doesn't quite have the voice and vocal range of these two divas, but she admirably gives it her all.
The character of Che, played superbly by Trent Saunders, is our narrator who guides us through the story, and sings superbly in the anthem "And The Money Kept Rolling In (And Out)."
Che continues telling the story when Eva meets and falls in love with Juan Peron, and in the process literally kicking his current lover out of the Presidential Palace, her rise in popularity and then, unfortunately, her sudden illness which leads to her death.
But this production doesn't quite convey the magnitude spell Eva had, and it leaves out the balcony where she used to wave to her admirers. Also, some scenes don't quite add up: when a little girl suddenly appears (in a ghastly getup) to beg for money and then walks off with a wad of cash, and when the cast, and Eva, perform in their underwear – these are scratch your head moments.
But all of this aside, it's a huge huge musical with amazing songs, great dancing by a cast who works hard to entertain you, and all performed in a beautiful setting.