Panto season's over? "Oh No It Isn't"! Following on from last year's hugely successful run of Sleeping Beauty, Bournemouth's first ever alternative panto, the cast are at it again only this time they're getting to grips with Jack's Stalk.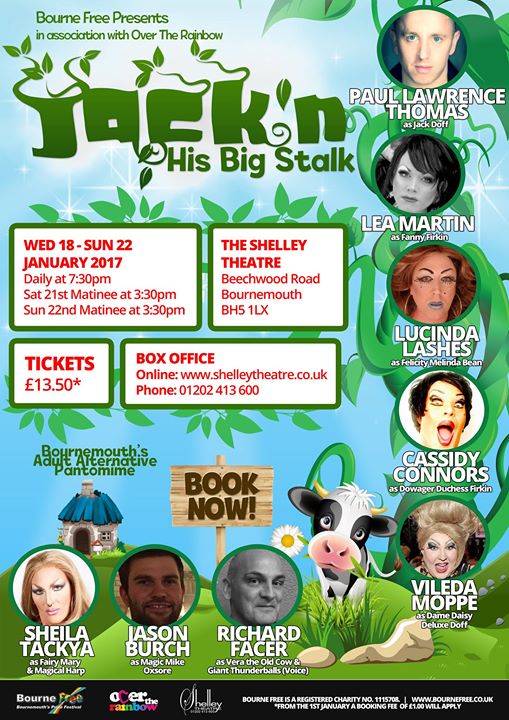 The wonderful Bourne Free (Bournemouth Pride) team in association with Over The Rainbow charity, who help with all sexual health issues, are pleased to see the return of some of their beloved stars from last year, including: Lucinda Lashes (Ben), Paul Lawrence Thomas (Cosmic), Cassie (Lea Martin), Cassidy Connors (Wesley Sebastian), Richard Facer and Jason Burch.
It seems the stalk is not the only thing getting bigger though down in Bournemouth as two new stars, Sheila Tackya (Xchange Club Hostess) and Vielida Moppe (UK Drag Idol winner 2016), will be joining the panto family who, due to popular demand last year, will be offering a much longer run.
We advise you BOOK NOW as tickets will sell out fast for this guaranteed night of hilarity and innuendo! Over 16's recommended.
The show runs from the 18th – 22nd January 2017 at the Shelley Theatre, Bournemouth. Tickets can be purchased from shelleytheatre.admit-one.eu
Bourne Free Pride takes place the weekend of 30th June – 2nd July 2017.