11 gay films you need to stream on Netflix
So Netflix has a great selection of LGBT+ films on its platform. Whether you're in the mood for a smushy romance or a heartbreaking documentary there's something available for everyone.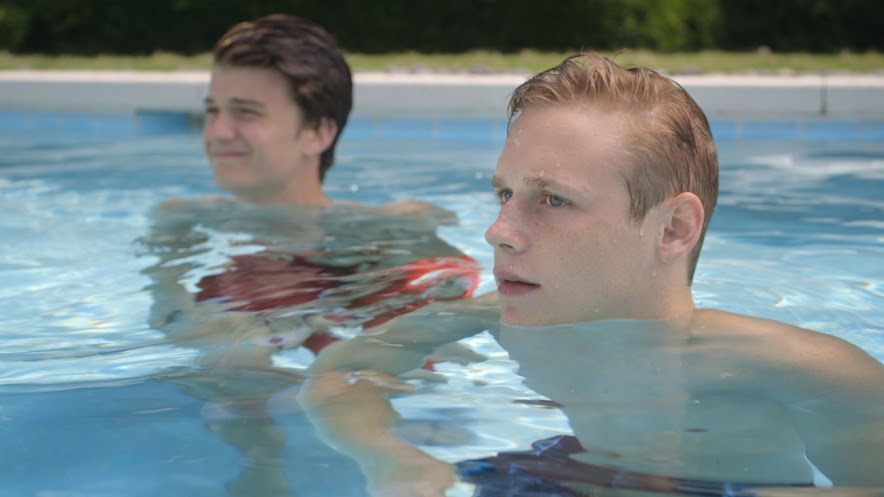 Here is our top list for 11 LGBT+ films you need to stream on Netflix. To see all the LGBT+ films available on Netflix click here.
Any Day Now ★★★★★
Drama
The storyline is simple, boy meets boy, boy blows boy in front seat of car, Rudy (Alan Cumming) is a low-rent drag queen/singer, Paul (Garret Dillahunt) is a closeted lawyer – and these are our two main characters. Set in Los Angeles in 1978, Rudy lives in a flea pit apartment block, and when his drug-addicted neighbour is arrested and sent to jail, the twosome takes in her teenage son Marco (Isaac Leyva) and become the family unit they all want and need. A strong cast and crew make this one of the best films of its kind in a long time with Travis Fine doing a great job as director, writer and producer. REVIEW: CHRIS JONES
Boys Don't Cry ★★★★★
Biopic, Drama
Heartbreaking biopic on the real-life story of Brandon Teena, a trans man, played by Hilary Swank in the performance of her life. Tragedy unfolds when the truth about Brandon's gender history is discovered. A raw and emotional film which leaves the viewer questioning and introspective long after the credits have rolled. REVIEW: JAKE HOOK
JOIN THEGAYUK MOVIE CLUB – It's totally FREE
Bridegroom ★★★★★
Documentary
Shane's painful, harrowing recounting of his partner's death and the aftermath of Tom's family's reaction, in many ways should give us hope in how to move forward from today. That no day should be wasted. That no day should be one where we forget our fight for equality. That no day should we feel afraid to hold our partner's hand in public. Bridegroom is one of the most important films for this generation. Its message is one that the world needs to hear. It is utterly life changing. REVIEW: JAKE HOOK
I Love You Philip Morris ★★★★
Comedy, Biopic
The story of two crooks who fall in prison and their jailbreaking crime spree to stay together – determined to build a life together in the harsh reality of the US prison system. An enjoyable watch starring Jim Carrey and Ewan McGregor. REVIEW: JAKE HOOK
Henry Gamble's Birthday Party ★★★★
Drama
Henry Gamble's Birthday Party' is a coming out story that's not, forgive the pun, all preachy about being accepted for being gay. It's a celebration and a masterfully directed film not just about a young man who happens to be coming out of the closet but also about the Evangelical Christian community. And Director Stephen Cone masterfully interweaves several stories going on at the same time that's not a bit confusing but provides an element of actually being there and eavesdropping on everybody's conversations. Doman is a true find at Henry Gamble. His face (and smile) practically lights up the screen – he's a natural and hopefully will have a very successful acting career in his future. But credit goes to award-winning filmmaker Cone (who also wrote the script) for creating a film that makes it a fun experience to be a part of. Bring your swimsuit. REVIEW: TIM BAROS
Holding The Man ★★★★★
Biopic
Holding the Man is one of the better, or perhaps maybe the best, of all the films that's dealt with the AIDS crisis. It's a movie that simply tells a story, a love story so enduring and epic that it's irrelevant whether the characters are gay or straight. Plus it's a story that some of us, who were around in the 1980s and 1990s when friends and partners were dying right and left from AIDS, can unfortunately relate to.
Corr and Stott are terrific and give it their all (Anthony LaPaglia is especially good as Caleo's stern and unforgiving father). But it's in the storytelling where this film excels. Credit goes to director Armfield and writer Murphy for successfully bringing this story to the screen. It's a story that's been told a few times (Philadelphia), but not in such a meaningful, and very realistic, way. However it's Conigrave's book on which this film is based, it's his book about his relationship with Caleo, a sort of love letter to him, and we're all very lucky to be able to see what an amazing, yet heartbreaking, relationship it was. This film is highly recommended. REVIEW: TIM BAROS
JOIN THEGAYUK MOVIE CLUB – It's totally FREE
Love Is Strange ★★★★★
Drama
In Ira Sach's follow-up to his highly acclaimed 2013 hit Keep The Lights On, love is also extraordinarily wonderful too. It's the tale of George & Ben a devoted couple who have enjoyed a somewhat glorious life together in Manhattan for the past 39 years. Now that same-sex marriage is legal in NY they decide to have a joyous wee ceremony surrounded by their close friends to tie the knot and make it all 'official'. Everyone is happy for the two men now in their late 60s, except for George's employers who had been blissfully aware of his relationship with Ben in the 12 years he had taught music at their school. Marriage, however, was too much for them, the Catholic Church that is, so in an act of Christian charity they unceremoniously fired him on the spot. Mr Sachs has created a fine feature about mature love that shouldn't just be niche marketed as a 'gay film' as it deserves and will delight a much wider audience. REVIEW: ROGER WALKER-DACK
Paris Is Burning ★★★★★
Documentary
An extraordinary time capsule of a film. Paris Is Burning takes us bang, slap centre of New York's famous Ball Scene, the birth place of Voguing. Film maker Jennie Livingston captures and immortalises the stories of the 80s and 90s drag, trans and gay scene in New York. Hilarious, haunting and thought provoking. REVIEW: JAKE HOOK
Tab Hunter Confidential ★★★★★
Documentary
Emmy Award winner Jeffrey Schwarz directs the movie, and this is his fourth documentary of a gay icon (Vito, Jack Wrangler and Divine). Schwarz shows a genuine affection for his subjects and the portraits he paints are very insightful and totally riveting. He reintroduces this disarmingly charming man to those of us who have memories of Hunter growing up, and present him to a new generation, who will see him as a role model that they can look up too. REVIEW: ROGER WALKER-DACK
The Opposite Of Sex ★★★★
Comedy, Drama
Dark, cool comedy-drama starring a young Christina Ricci, who falls pregnant and moves in with her older, gay half-brother. Sexy, twisted has a bit of an American Beauty vibe to it. Well worth a look. REVIEW: JAKE HOOK
The Way He Looks ★★★★★
Drama
Suddenly the cosy closeness of the two old friends is threatened when Giovana discovers that the newcomer will not be her longed-for first romance, and that in fact he will usurp her major role in Leo's life. Leo has been blind from birth and lives with his overprotective parents in their very comfortable middle-class home in suburb of Rio, and Giovana has played the part of his 'seeing eyes' for years. His mother almost suffocates him by insisting on controlling his every movement and she is reluctant to leave him alone for one single moment. This very cute debut feature from Brazilian writer/director Daniel Ribeiro was based on his award-winning short, Eu Não Quero Voltar Sozinho with the same actors, and has gone on to, quite rightly, win two major accolades from the Berlinale: the FIPRESCI Prize and The TEDDY for Best LGBT Feature. It is about to open in cinemas here where it will so easily win over a lot of hearts too. Especially in the closing scenes. REVIEW: ROGER WALKER-DACK