Driving Out Of The City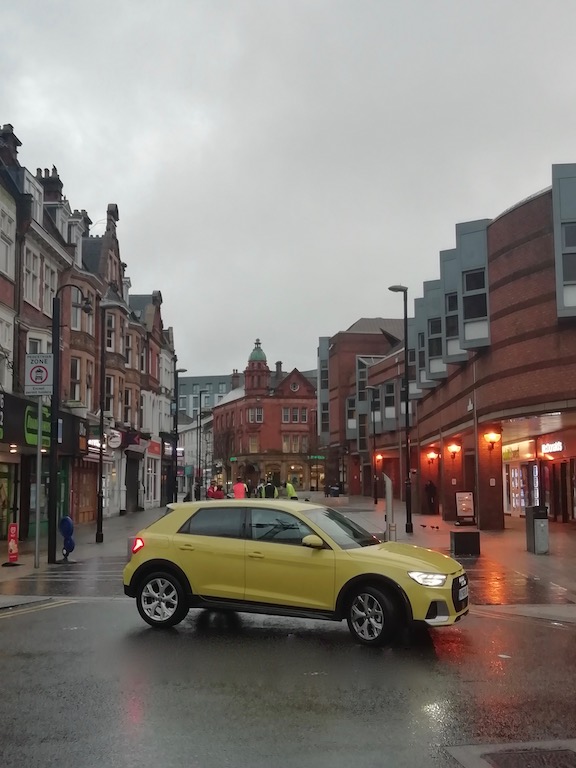 Audi has just revamped their little A1 for the city giving it the "Citycarver" moniker. It sits high up in the A1 range and therefore towers above the Sportback model in the range in more ways than one.
What we have here is an Audi A1 that has been lifted a huge 50mm. That's 2 inches in old money. It's also dressed up with some black wheel arch extensions like those from Audi's Q range but this is no SUV.
It's still Audi's little hatchback car.
For a start, the raise in rode height should, in theory, make for a lofty wallowing ride when compared to the Sportback that we at THEGAYUK liked very much. In some degree, it does but not in a notably loose way that you would expect. It's rather less Germanic in comfort terms and it seems to be a trend I'm noticing from the 'normal' cars from Ingolstadt. The ride remains faithful to the A1 Sportback in being entertaining on A and B roads while also being just that much softer while retaining a semblance of body control.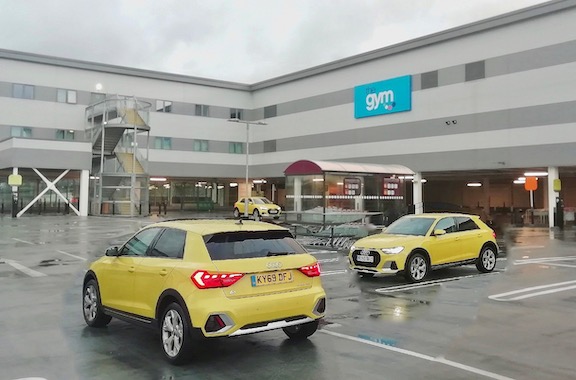 This floaty Audi was fitted with the engaging 999cc TFSI 3 cylinder petrol unit mated to a sort of hydraulic dry clutch gearbox. In essence, it's an automatic with 3 drive modes. Auto, wheel paddles or selected on the gearstick in S mode. All three work well though on the stick shift it always feels wrong when knocking back goes up the gearbox. Many do it the other way around and that feels more natural. This gearbox has come in for some harsh criticisms for its lack of go-go-go when you floor it from a stand-still and I'm happy to report that the hesitation now almost link to this system was well muted. It felt better suited to the city fight for space when pulling out of a side road quickly. 
It doesn't try to be hot hatch despite its identical credentials of the other A1 in the range and it makes for the better car. However, it doesn't all go its own way. For a start, as a car named for the city, it lacks protection. The city can be a brutal thing. Remember all the trouble Carrie and the girls had trying to navigate their way around Manhattan? It's like that for the A1 Citycarver. It looks great but those looks won't last long. The absence of door rubbing strips is noticeable. There isn't even an option for them. It goes a little way in the fitment of black wheel arch extensions but these are hardly the things to preserve the flanks of the doors in a carpark.
And then there is the interior. It's just a bit business like inside. You can't fault the ergonomics and driver comfort but the colours are more suited to a boardroom meeting with a packet of rich tea as the only available snack. Perhaps it was the £575 optional python yellow metallic paint that exaggerated this. The colour was bold and memorable and made a statement wherever it was parked. But the grey inside with the below par for Audi, silver trim across the dashboard just doesn't cut it, well certainly not in a car that costs just under £23 grand before options.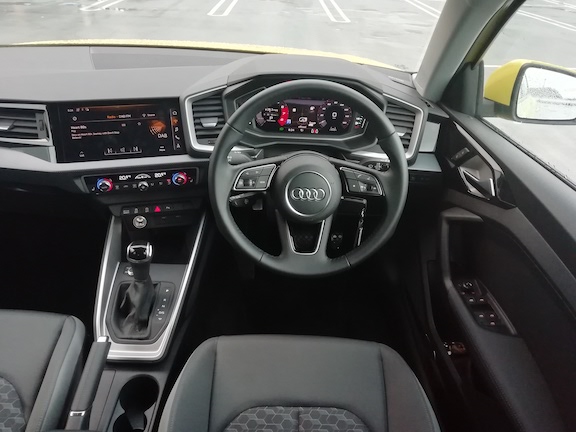 It redeems itself inside with Audi's 10.25 inch digitally adaptable facia display and 8.8-inch infotainment screen. This is thankfully angled towards the driver. The interface is easy to navigate around and responds to fingering inputs quickly. Annoyingly the lane keep assist system will always reset after you switch off. Its aggressive tugging can be quickly turned off from the end of the wiper stalk.
Despite my criticisms, it is a rather nice package let down perhaps by Audi being at the business end of the global company it comes from.
A smattering of bright colour dotted around wouldn't go amiss inside. That said, it's the engaging enthusiasm the chassis affords you when you get out of the city. Kick-off those high heels and slip into those comfy trainers and your A1 becomes a Carver, cutting up the badly maintained back roads of England with aplomb and this time you're allowed to keep the ESP off all the time!
It's just that I wouldn't want to take it back into the big city without those door rubbing strips. They might be unfashionable but it's cruel out there!
Love
Engaging drive
Ride comfort
Infotainment system
Loathe
Price with options
Business like interior
Lack of city parking protection
The Lowdown
Car – Audi A1 Citycarver 30 TFSI 116PS S tronic
Price – £ 28,035 (as tested)
MPG – 45.6 – 46.3 mpg (WLTP combined)
Power – 116PS
0-62mph – 9.9 seconds
Top Speed – 123 mph
Co2 – 115 (g/km)
ALL PHOTOS Ⓒ Stuart M Bird.